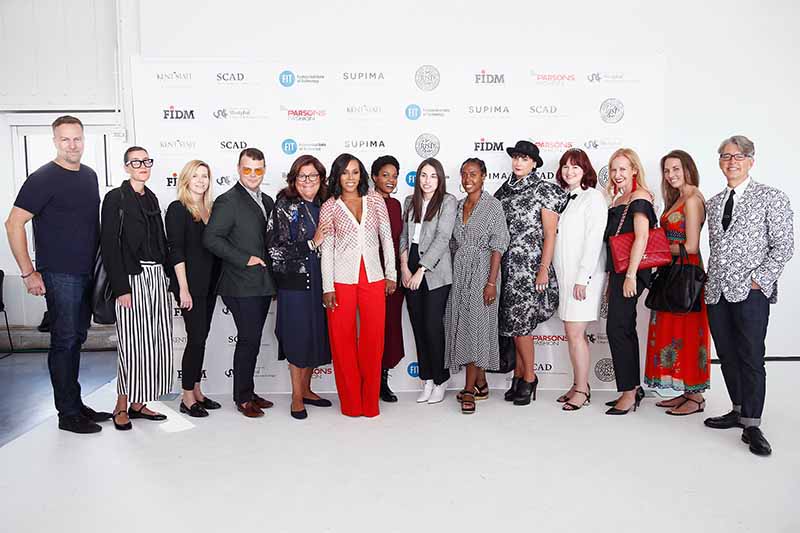 On Thursday, September 7, 2017 at 4 p.m. EST, inside Pier 59 Studios, Stage C in New York City, Supima along with recent graduates from the nation's top leading design schools presented the 10th annual Supima design competition.
A collective runway showing of participating designers from the nation's top design schools [Abigail Griswold from Rhode Island School Of Design, Alyssa Wardrop from Fashion Institute Of Technology, Alexandra Pijut from Savannah College Of Art And Design, Elizabeth "Nancy" Hennessey from Fashion Institute Of Design & Merchandising, Lela Thompson from Drexel University, Margaret Kwon from Parsons The New School and Sarah Johnson from Kent State University] presented capsule collections of women's eveningwear made exclusively with donated Supima cotton fabrics from the organization's partners including AG Jeans, Brooks Brothers and Uniqlo.
The winner, Alyssa Wardrop from Fashion Institute of Technology, was selected by the below panel of judges, and received a $10,000 check from Supima to kick-start her design career. Additionally, Alyssa will present her collection during Paris Fashion Week on Sept. 26.
Participating for the first time, June Ambrose served as host. Judges included: Alexandra Wilkis Wilson – co-founder, Fitz. Co, Carmen Lilly – stylist, Fern Mallis – founder, New York Fashion Week, Jade Frampton – executive market editor, ELLE, Katharine Zarrella – founder, Fashion Unfiltered, Nicole Chapoteau – fashion director, Allure, Paige Reddinger – fashion editor, The Daily Front Row, Sarah Kauss – founder, S'well, Scott Morrison – designer, 3 x 1, Tracey Greenstein – business reporter, WWD, Tyler McCall – deputy editor, Fashionista, Zach Weiss – columnist, Observer.
For the third year, fashion designer Bibhu Mohapatra served as mentor to the seven finalists, providing invaluable feedback and insight throughout the process.
Started in 2008, the annual Supima Design Competition was created to give runway exposure to emerging talent and was modeled on the legendary 1954 Wool Secretariat competition that launched the careers of the then-teenaged Yves St. Laurent and Karl Lagerfeld. Since its start, former Supima Design Competition winners have gone on to launch their own labels, show at New York Fashion Week, and secure jobs with top international labels including Michael Kors, Marchesa, Ralph Lauren and Phillip Lim.