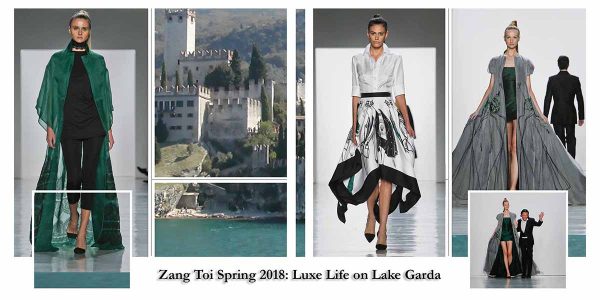 In a New York season wherein there is so much uncertainty on where fashion week is going, Zang Toi blew away the ennui that was hanging over the fashionistas by presenting a highly covetable Spring 2018 collection. It was so covetable that it felt like watching the unveiling of iPhone X all over again.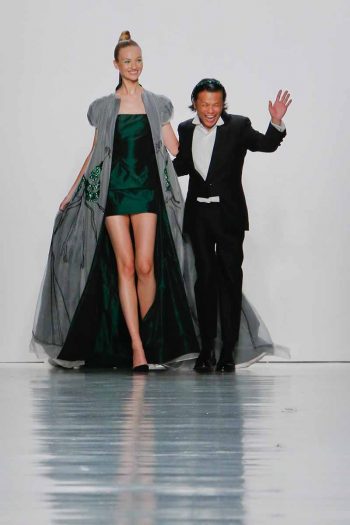 Just a word of caution though. If you are into fast fashion wherein you blink an eye and it is already out of style, then this collection is not for you. But, if you are into timeless silhouettes, impeccable tailoring and irrefutable attention to details, then you are in good hands with Zang Toi.
The opening exit is a harbinger of the things to come. The versatile black tunic and Capri leggings were paired with an equally versatile flowy caftan coat in emerald silk gazar. Separately, the black tunic and leggings should be wardrobe staples. They are equivalent to your LBD.
As styled on the runway, they can be casual or formal depending on your shoes (ballet flats for casual/ stilettos for formal) and the jewelry you are wearing. The emerald caftan coat is the key. Use it as lounge wear in a cruise ship. Wear it to finish an outfit for a formal affair.
Every piece in the collection follows that principle, i.e., Zang Toi wants women to choose freely and be able to mix and match at their pleasure. Zang's message this season – every moment counts so you should feel good and look good 24×7.
As I already mentioned, everything is a must-have. But, since I am not one of the women in Kevin Kwan's "Crazy Rich Asians." I made a list of what I want in my wardrobe which starts with the black trench coat and the signature cardigan wrap. The handkerchief dresses with Zang Toi sketches are also to die for.
Saving the best for last, the grand finale – a white couture silk gazar princess coat with handbeaded Zang sketches paired with emerald silk taffeta mini dress are red carpet worthy anywhere in the world.
Now, that's my wish list. But, if I am the fictional Astrid Leong or Araminta Lee, I'll buy the whole collection.
Photos courtesy of Zang Toi