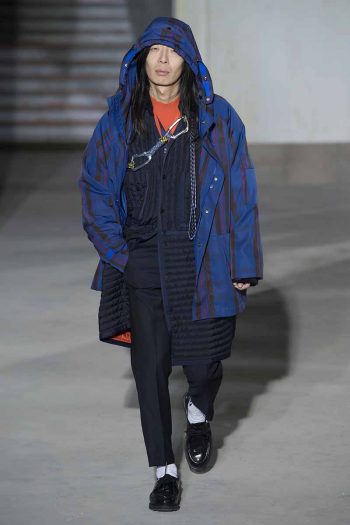 PARIS MEN'S WEEK/ — A city has many hidden facets, and its inhabitants are the keys to discover them. As citizens of the underground, our collective stories speak of strata and subversion: the accumulated layers of the urban typology and its symbols of industry. Stretching back to antiquity, the human race has mobilized "en masse" to build upon its foundations, generation after generation adding to the cultural iconography of the metropolis in its many guises.
The Études collection for Autumn/Winter 2018-19 explores this conceit, alighting upon a conglomeration of familiar yet incongruous motifs constructing a personal take on a universal theme. Departing from a singular vision, the men's and women's collection run in tandem; in a common palette of dark olive, safety orange, camel, silver and Etudes blue, they share humble textiles from Prince of Wales suiting wool to Scottish tartan knits, herringbone cotton twill, quilted nylon, boiled double-face wool, metallic waxed cotton, and washed indigo denim.
In a constant evolution of wardrobe archetypes the field vest is considered as a trompe l'oeil construction on parka jackets, cargo pants, and a flared skirt, joining multiple iterations of Etudes outerwear's squared, rigid lines. Jacquard knits, scarves and hoodies reprise the motifs of Greek antiquity, as amphoras and Olympic bodies collide with the codes of contemporary sportswear. Artisan details invoke both industry and craft, as parachute cord is crocheted as garments, or knotted amongst the myriad gadgets on keychain lanyards – the metaphorical "keys to the city".
Considering the portrayal of cities immortalized by the press, Etudes incites a pair of unprecedented graphic partnerships, adorning garments with corporate and comic narratives on both macro and micro scales. The first invokes the universally-recognized logo of The New York Times newspaper emblazoned across jackets or all-over print shirting – a global voice for daily current affairs and politics and a weathervane of opinion within fashion and the arts. The second calls upon the cult American cartoonist Robert Crumb, whose anthropomorphic character "Fritz the Cat" appears as comic strip shirting and cartoon sweatshirts – himself a New York icon and humourous caricature of the modern-day "flâneur"
The Etudes fashion show for Autumn Winter 2018-19 takes place in the basement of a disused Brutalist office building in the 17th arrondisement of Paris, with soundtrack created by French electropop artist Maud Geffray (Pan European Recording).