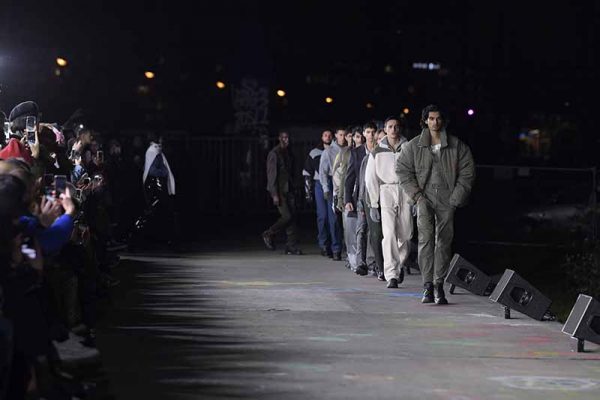 PARIS MEN'S WEEK Fall 2018: GmbH presents their first runway show to close out the first day of shows for AW18 Men's Fashion Week in northern Paris looking out into the cityscape and traintracks.
Founders, Benjamin Alexander Huseby and Serhat Isik continue to build the workwear codes of the brand introducing larger tailoring and knitwear pieces.
This collection is a strong reaction to the current political climate, what they call "the Modern Dark Ages." Chainmail tops and embroidered leather gloves were further protective wear.
Featuring their signature PVC pants in abstract lightning bolt prints done in reclaimed leather.
Trousers inspired by Turkish oil wrestling embroidered with a stinging nettle plant motif that has been made into a coat of arms pattern. "It is unruly, unwanted and aggressive, growing everywhere you don't want it to. Like the others, the immigrants, not wanted."
They presented a fuller knitwear offering with reworked Norwegian sweaters sourced in Berlin into zip sweaters in green, brown, red.
GmbH also presented a fuller selection of tailoring with blazers and overcoats in wool and cashmere.