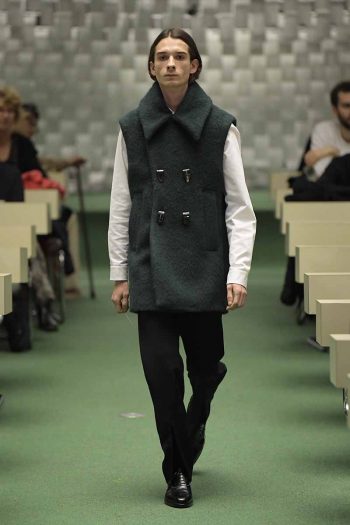 PARIS MEN'S WEEK Fall 2018: The collection pays tribute to the Kurdish optimism, from generations to generations, no matter the conditions of life. Colorful coats and shirts symbolizing their joy and openness that meets with Francis Bacon's palette and aesthetics.
Love, as the main influence: the love of a people, where everyone looks for each other like a mother with her children. The love of a land filled with nature and young souls and the fertile Earth, crossing paths with sculptural buttons inspired by Barbara Hepworth's work. Refined suits, reminding the origins of the brand, the journey of the designer.
Babani, Barzani, Hamawand and Kakaie tribes celebrated with blanket-like overcoats, the traditional way of dressing up in the Zagros Mountains. The romantic dream of these brave men about what is coming for us. Futurism, coming from the designer's appreciation of the TV show Stargate SG1.
The collection includes:
– Kvadrat fireproof fabric symbolizing protection, the safety of tribes, family
-White Fur coat made from Steiff Schulte's mohair fur in reference with artist Anna Betbeze's scorched and dyed textiles
– Finest silk from Bucol
Photos by Giovanni Giannoni, courtesy of Namacheko