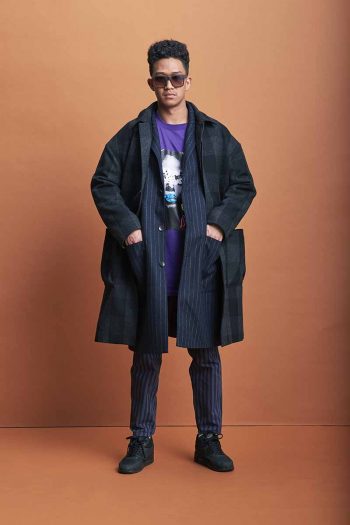 NEW YORK MEN'S WEEK: For this second season of Gustav Von Aschenbach, designer Robert Geller has opted for a fresh take on what modern street wear should look like through his lens : in Gustav Von Aschenbach Autumn/Winter 2018 we encounter an abundance of layering and lots of color, further exploring the persona of Gustav von Aschenbach.
The brand takes its inspiration from what is happening in both Tokyo, and New York City.
Featuring exclusively Japanese fabrics, washed cottons, wool and nylon are layered and used in juxtaposition, creating a tongue in cheek narrative of nerdy non-chalance.
Casual streetwear elements and buffalo plaids meet classical menswear, such as pinstripe jackets and dress shirts, opening up to a versatile wardrobe that can be used for a sporty or more dressy look. Or something in between. Technology is also an element of inspiration as it brings up questions about the future. Fall 2018 has been presented as a three dimensional "holographic" runway presentation, with virtual models emerging from an LED screen.
The brainchild of New York Menswear Designer Robert Geller, GUSTAV VON ASCHENBACH was launched on July 11, 2017 during the NYFW: Men's Spring/Summer 2018 season.
GUSTAV VON ASCHENBACH takes its name from the main character of Thomas Mann's famous novel, Death in Venice. Like many of Mann's literary works, Death in Venice, is steeped with references to contemporary influences ranging from music -Gustav Mahler gave the character his name- to Freud's findings in psychology as well as classicist references to greek mythology. Additionally through its suffix "von" the name evokes a "tongue-in-cheek" nobility.
Robert takes these German references to update them with contemporary elements. GUSTAV VON ASCHENBACH is an instantiation of his desire to make his designs easily available and to reach a broader public.
It's about wearability, comfort and ease, new, special yet wearable shapes, "a great product at a great price point." It's also a continuation of the designer's exploration of color that we are so familiar with from his namesake collection.
The designer who has recently been nominated for the coveted CFDA menswear designer of the year award reflects on the new developments as an opportunity to embrace a more sustainable model that is closer to what the consumers want and available when they want it.
Photos courtesy of Gustav Von Aschenbach