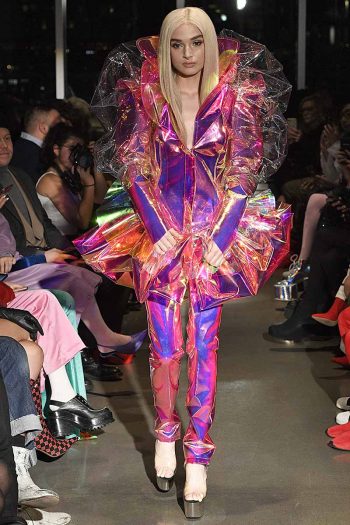 NEW YORK FASHION WEEK/ — KAIMIN launched their Fall Winter 2018 collection 'Oriental Garden – Utopian Discord' as a high tech and visually immersive runway transformation. The brand worked with artist, Jon Jacobsen, to create the world of KAIMIN into moving images, projected onto surrounding surfaces, engulfing viewers and mutating, otherworldy visuals.
The panoramic night time skyline proved the perfect serene backdrop whilst singer, Ian Isiah delivered an inspired live performance as Gavin Rayna Russom (LCD Soundsystem) conducts a live synthesizer set. The runway line up consisted of stirring fashion models with vivid influencers, including Amanda Lepore, Cheeky, Dawn Richard, Ugly Worldwide, Jeana Turner, Princess Gollum, Raisa Flowers, Sara Cummings and Susanne Bartsch.
KAIMIN collaborated this season with Singer, Poppy, on a limited-edition capsule collection, seen present throughout the Fall Winter show. This collection naturally and aesthetically has its wonderful own design language, merging the out-of-this-world with the digital. The Poppy x KAIMIN design collaboration, develops from an existing relationship KAIMIN and Poppy have, from working together on her Computer tour to creating bespoke looks together and additional Poppy X KAIMIN t-shirts and accessories.
Starring: Poppy, Ugly World-wide, Gavin Rayna Russom, Ian Asian, Amanda Lepore, Cheeky, Dawn Richard, Jeane Turner, Princess Gollum, Rasia Flowers, Sara Cummings, Susanne Bartsc and, Erin Green.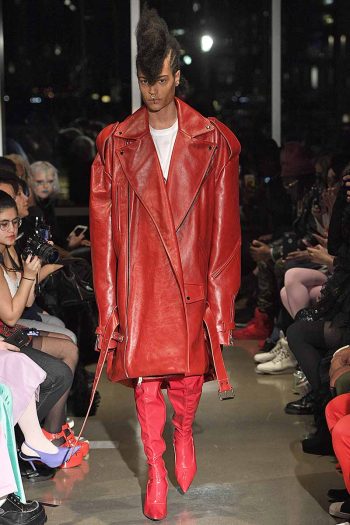 In today's multitasking, multi hyphenated generation, KAIMIN, the South Korean-born polymath stands alone. Working as a conceptual artist, creative and visual director, designer, film director and actress in her homeland and in the West; she traverses different mediums as effortlessly as she crosses cultural boundaries. Her close tied with the fashion world and her natural state of curiosity, lead to the launch of her fashion collection of the same name. In fashion, KAIMIN finds her fullest expression through the medium of fabric and the results are defiantly unconventional, sensual and unlike anything else. Taking elements of bondage and punk, in constant pursuit of 'extreme beauty', her uncompromising, dark and thrilling new vision of clothing brings her love for abstraction to the foreground.
Oriental Garden – Utopian Discord emphasizes visual variance, mixing technological minimalism with lush, dazzling organics to promulgate: all differences, even if not fully understood or agreed with, should find tolerance; all creatures deserve room under the sun. The mesmerizing 3D visuals to be displayed at the show tell a story of turbulent metamorphosis with the Garden's inhabitants eventually finding their path and attaining universal enlightenment. The singular creative force that gives life and support to all creatures in KAIMIN's Utopia was purposefully animated to allude to the human vagina, an important element for the entire show. The main collection strives to reflect individual desire to transform and to become the best version of one's self, ultimately being proud of one's uniqueness. Human diversity is embodied by bold garments that pair rigid and soft materials – elegant and flowing silhouettes are balanced with dashing details and exaggerated features. Darker, sinister hues symbolize the majority's social resistance that all too often confronts the transformative minority. By contrast, Poppy's capsule collection brings Utopian acceptance, reconciling the Discorded Oriental Garden with a brighter, glowing palette. Here, forms and textures draw inspiration from water elementals, flowers and bioluminescence. These garments offer multi-plane, complex opulence with translucent materials that reveal contrasting layers.