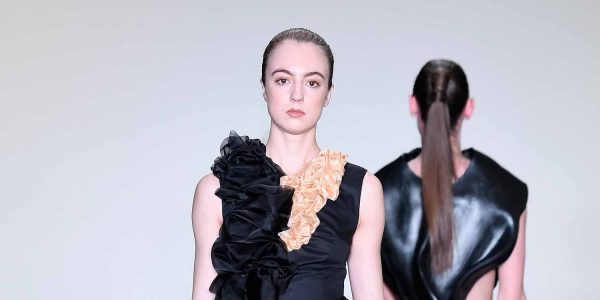 NEW YORK FASHION WEEK/ — Canadian designer Kirsten Ley's eponymous label features designs carefully crafted with a deep consciousness embracing the natural female form. The artistic collection NERŌ explores the concept of abandoning the fear of death and yearning for the afterlife.
NERŌ highlights the exquisite and undeniable dichotomy of beauty and destruction with hard and soft surfaces in the collection's textiles. A dark feminine energy was expressed with deep greens and inky blacks. The interplay between sculptured leather pieces and ruffled textile manipulations was balanced with fitted midi skirts and straight leg pants. A long length jacket with fitted leather bodice and sizeable fur sleeves made a bold statement.
The Kirsten Ley Fall 2018 collection was shown under the banner of the Global Fashion Collective at New York Fashion Week on Thursday, the 8th of February 2018. Meant to showcase the work of cutting-edge designer, their experimental F/W 18 collections create powerful messages by the influence of personal and artistic expression. 'Conceptual Artistry' is an avant-garde selection of conceptual work with an haute couture feel.