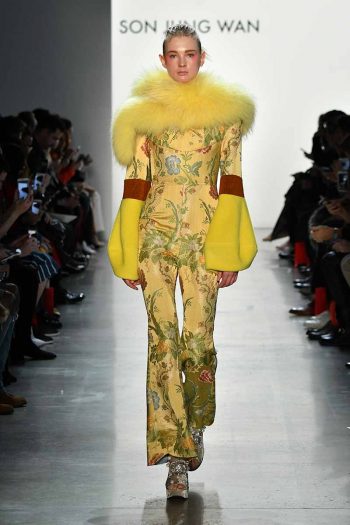 NEW YORK FASHION WEEK/ — While snowboarders at the 2018 Winter Olympics battle in this extreme sport, Korean-born designer Son Jung Wan takes fashionistas to the "80s Extreme" as she proposed dramatic volumes and soft curved silhouettes in the most luxe looks created with Maximalism in mind.
Pop and funky colors such as vibrant yellow, electric green and blue bird are harmonized with gentle texture fabrics such as fox fur and lambskin resulting in a richness with a retro feel. Bustier and the various cuts of the seams give a 3D effect. Tenderness and retro mood is illustrated with tweeds and jacquards.
But, don't think for a minute that the looks are dates. Far from it! The designer updated the shapes for the 21st century and thus the collection also appeal to the Millennials.
A definite hit to Son Jun Wan's discerning audience that included celebrity attendees – the brand's muse, actress Kelly Rutherford, actors Eric West, Broderick Hunter (Insecure) & Jeremy Carver(Empire), recording artists Lipsia, Emily Perry, Bing, Marre Gomez, Frenchie Davis & DJ Xenia Ghali, actresses Hailie Sahar, Lyrica Okano (Hulu's Runways), Sheena Sakai (Power), Carra Patterson (E! The Arrangement) along with a dose of reality TV stars with The Bachelor's Calia Quinn & Jack Stone and YouTube sister sensations', Niki DeMartino & Gabi DeMartino, and Masika Kalysha (Love & Hip Hop Hollywood).
Photos courtesy of Son Jung Wan