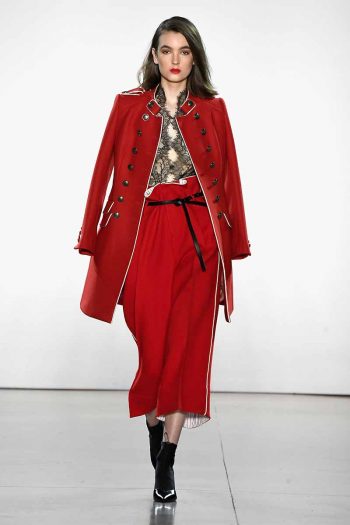 NEW YORK FASHION WEEK / — Ahead of the curve in the current trend of formal dressing that has swept the New York runways this season, Wang Tao reinforced her title "Queen of the Suit" as she sent out avant-garde interpretations of the military uniform as women's suits and coats.
Combining the classic with the modern, the East and West, Wang Tao deconstructed and reconstructed the military uniform. The iconic olive-green interspersed with striking shades of red which were balanced with black, were the main color palette.
Chic with a touch of softness thanks to the loose fit and masterful draping, the masculine elements were kept via the bold shoulders and use of big buttons and oversized belt buckles.
Inspired by Catherine the Great, Empress of Russia, the Taoray Wang Fall 2018 collection is aptly titled "Enlightenment Empress." Empress Catherine was a patron of the arts, culture and education and became the country's longest-ruling female leader during the Russian Age of Enlightenment. Born to a noble German family Catherine transformed herself through determination to eventual rule of the world's then-largest empire.
The TAORAY WANG collection is sold to exclusive clients throughout Asia, Europe and the USA. In addition, the brand which has showrooms in Shanghai and London, is scheduled to open its first US store and showroom in New York City's SoHo next year.
Photos courtesy of Taoray Wang