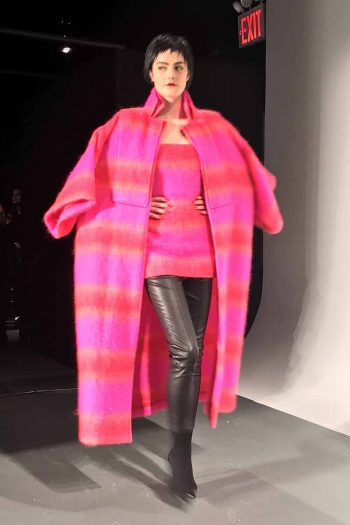 NEW YORK FASHION WEEK / — With the title "Haute Roman Holiday," it was easy to deduce that the Zang Toi Fall 2018 collection is all about understated elegance and romance, just like the famous 1953 movie "Roman Holiday," starring Gregory Peck and Audrey Hepburn.
Yet, surprisingly, Audrey Hepburn was not Zang's muse, but the City of Rome itself. "The collection was inspired by my recent visit to the Eternal City… Strolling around the historic monuments and palazzos inspired me to create a stately collection consisting of timeless beauties," wrote Zang in his press notes.
And timeless beauties they are! Beginning with the opening look of a Loro Piana charcoal cashmere / wool flannel strapless palazzo jumpsuit paired with a cerulean saga royal mink sculpted coat with attached sculpted collar to the hot pink 3 ply silk crepe framed neck column gown with sweeping cape.
Everything is lovely and quite frankly, it is really hard to choose a favorite. The clothes are so versatile that you can actually mix and match from the different looks proposed in the collection. The regal red, statement pink and orange are anchored by black and gray, thus giving the Zang Toi women lot of styling choices.
In short, one cannot go wrong with this collection. Every piece can stand by itself and different looks can be achieved by just mixing and matching the different pieces that are offered.
Now, here is a piece of trivia. The movie "Roman Holiday" won Audrey Hepburn an Oscar for Best Actress and it also won an Academy Award for Best Costume Design for Costume Designer Edith Head. The movie was released in 1953, which was 65 years ago.
For "Haute Roman Holiday," Zang Toi reinterpreted Audrey Hepburn's elegance and refinement for the 21st century making Hepburn's character Princess Anya relevant to the Millennials, Gen X and Baby Boomers alike.
To achieve that, Zang looked into his own archives and found his first ever collection launched 28 years ago, the "Lucky 13," which launched him as a Designer to Watch in New York. Zang used the same color palette from that collection, and thus demonstrating once again that being a master colorist is one of the reasons for his success as a designer.
" Haute Roman Holiday" is a collection of beautiful and timeless silhouettes just like the Eternal City where it was conceptualized.