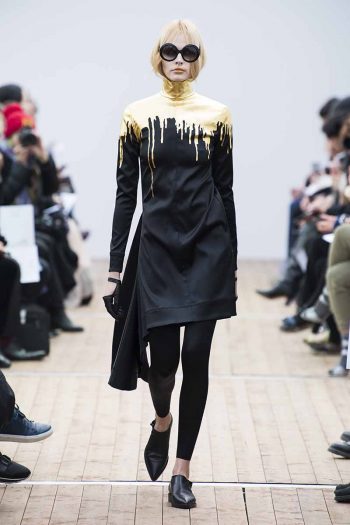 PARIS FASHION WEEK/ — The Fall-Winter 2018-19 Collection is inspired by the "Art Brut" movement, of which Guy Laroche was a collector. The Compagnie de l'Art Brut was founded in 1948 by Jean Dubuffet, André Breton and a few others. The idea of this movement was to put forward the so–called "Outsider Art", a means of analytical expression in psychiatric hospitals.
Most pieces in the collection come from an A4 pattern, the rectangular shape being the main cut. Roughing, unfinished, trace, brushstroke, contour line, sketch, crumpled paper, cardboard, spill are
the key elements of the collection. The fabrics mirror these elements.
Zibeline cashmere, structured jersey, illustrated stretch crepe, wool, laminated cardboard, double
layered neoprene, leather, lamé striped chiffon, « luminati », silk ribbon, unfinished metallic
embroideries are the canvases for this collection.
A 1980 spirit in graphics and in certain cuts reinforces the spirit of madness of this collection.
Richard René for Guy Laroche