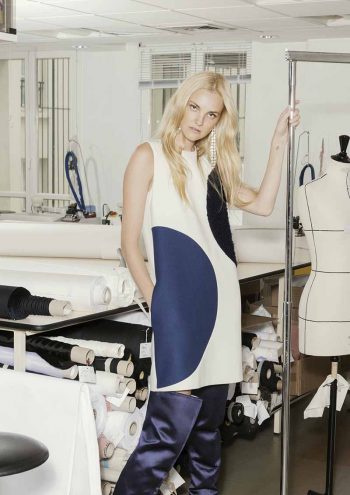 PARIS FASHION WEEK / — Paule Ka opens a new chapter with a definitive first stroke on a clean slate for Fall-Winter 2018, one that reads as a bridge thrown between heritage and future.
To best serve this renewal and to ensure a creative transition that stays true to the Parisian house while developing a new perspective of luxury today, Xavier Marie, new owner of the brand, has called upon Serge Cajfinger, founder of Paule Ka to manage a transition and build a new creative era cemented around the ateliers and a renewed studio team. Underlying any of the creations are the crafts that give Paule Ka its indomitable spirit, today as much as 30 years ago.
This return to roots is a love letter to the Future. True to its original vision, the Paule Ka woman has her eyes firmly set forward. A new page of her destiny writes itself on this immaculate blank page.
Symbolising the brand's perpetual desire to dress a woman in her every day, and not some fantasy of her, Fall 2018 has been imagined as a complete wardrobe: from day to night.
In fashion as in architecture, a perennial source of inspiration, the driving force is the line, always the line. In a garment, it translates as a readily legible outline in which materials echo volumes, an alchemy between object and body. Everywhere, tension between geometric and organic shapes can be found. Rigorous cuts and shapes form a dialog with the softness of feather elements and draping.
Playing with lengths becomes the by-word of modernity itself, a discreet reminder of feminine
emancipation through movement. Long or short, dresses are expressions of their wearer: a spirited soul in a trapeze dress decked in asymmetrical bows, a femme fatale in silk lamé, all glamorous informality in a shapely pair of trousers.
Panther and floral jacquards come to spice up the pure lines of this silhouette. Nods to the house's rich heritage appear here and there, like the knot, which appears as a geometric origami dressing a neckline.
To echo these contrasting pairs, the season's muse is dual, equally Diane Keaton and Diana Ross: intellectual but never pedantic, a diva but never without self-deprecation.
A woman of many facets, rather than an out-of-reach goddess, she inhabits her life and her garments. In them can be read the irreverence of a supremely elegant lean silhouette paired with triumphant, scene-stealing femininity.
First page of a new chapter, Fall 2018 is the manifesto of the Paule Ka spirit.