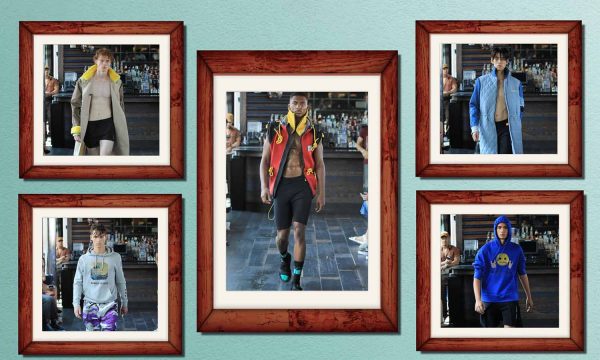 For his debut collection at New York Fashion Week Men, Romeo Hunte was "inspired by luxe streetwear meets swimwear, made for the everyday man who wants a classic outerwear piece with a luxurious vibe and twist," as mentioned in the press notes.
Think of it as the scuba diver wearing streetwear made from their beloved scuba gear. Romeo Hunte used neoprene from wetsuits to create vests and cropped jackets. Great idea and great on the catwalk, but I am unsure if it will fly as summer wear. Thinking back on my scuba diving days, neoprene can be very hot because it is designed to be waterproof. But, technology has advanced and today, there are "breathable" neoprene. So hopefully, that's the neoprene that is being used.
That said, it is good to note that it is an eye-catching debut collection. There are many wearable pieces that young men who are into streetwear will want in their wardrobe. It's different from the current offerings and the collection has a luxe feel.
And even at this early, Romeo Hunte already has a celebrity following. Among the attendees were celebrities and influencers such as NFL player running back Corey Clement for Philadelphia Eagles, Nigerian- American rapper, singer and songwriter Thutmose, well known for his songs "WuWu and Ride With Me," actor and son of retired American NBA hall of fame basketball player Isiah Thomas-Zeke Tomas, American actor Derek Luke, popular for his performances in Antwone Fisher and Captain America, actor Sam Clemmett the British actor popular for his role as Albus Potter in Harry Potter and the Cursed Child play, Kareem "Biggs" Burke of the popular Roc Nation.
Photos courtesy of Romeo Hunte