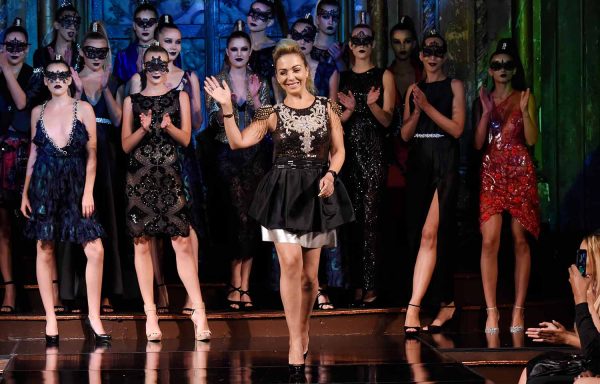 The modern woman – refined, always elegant, effortlessly looking cool. She is most likely wearing "Desire", the new collection by Alexandra Popescu York, made for all the places where a powerful modern woman will go. When it comes to fashion, Alexandra's style is difficult to reproduce. She brings together uncommon materials to create monumental art collections that illustrate her prolific imagination.
Alexandra Popescu-York, the Romanian-born designer now based in New York, is the only designer in the world who has presented artworks of different categories at the same show, at the same time: a collection of fashion couture and a painting exhibition. She has been painting since the age of three and has studied fashion design and plastic arts at the University of Arts in Bucharest.
Her fashion motto? "I am not creating dresses, but concepts. Not seasonal clothes, but trends, movements, emotions." The new collection reflects this. "Desire" is made for the resolute New Yorker, the woman who has places to go to and things to do and needs a versatile wardrobe. This collection is a celebration of women sensuality combining elegant, classy, sultry, with a glam rock feeling.
She is led by the thought that the most important thing for a designer is that the finished product is original, believing that "authenticity is increasingly rare in the world of fashion". Many times she will paint directly onto the materials or embroideries or she will completely alter the textures through overlapping. "It is said that you cannot reinvent the wheel, but I am stubborn to prove that you can nonetheless be original in fashion," says the creator.
Every presentation comes with a new concept inspired by her own experiences. Generally she has two couture presentations per year and, though she follows the trends, she focuses mainly on her own experiences – not copying trends but always trying to introduce elements of art. Alexandra Popescu York's creations are unusual, one-of-a kind or limited edition luxury clothes which appeal to modern women.
She's used to building patterns directly on the model rather than on the pattern table, as other designers often do. Over time she has created dresses without side-seams and with hundreds of stitches, admitting that she rarely uses the classical patterns unless they are needed. "A designer's individuality consists in using the fabrics and materials that nobody else uses", says Alexandra Popescu York.
Settled in the US for over ten years, she's built an impressive record of national and international fashion shows and exhibitions.
Beside her many fashion awards and recognitions, her paintings have also been included in the Art Exhibition at the 70th Anniversary of the United Nations.
Write-up and Photos courtesy of Art Hearts Fashion