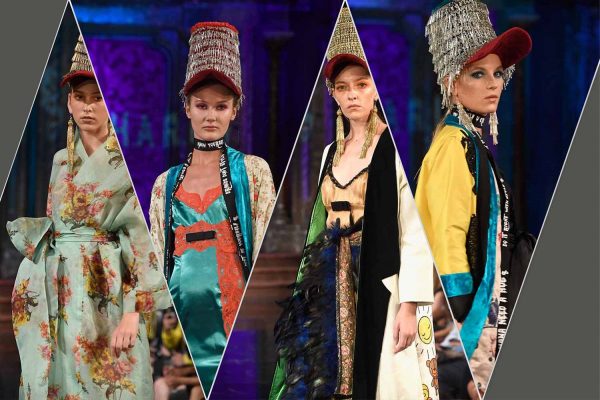 Amal Azhari is a Lebanese fashion designer that has acquired, over the years, an international reputation. Her talent and infinite passion for design have made her change careers and leave behind her ten years of experience in the communication where she was working after receiving a Bachelor Degree in Business & Marketing and a Masters Degree in International Affairs & Diplomacy.
In 2005, she took the leap and opened Amal Azhari Couture House with one employee; drawing and designing evening bags along with high-end tunics and caftans. The success was immediate as the demand for these crafty pieces increased leading to the ultimate recognition in 2006 with the presence of her collection at the Paris Fashion Week; an event that she has been participating in, ever since.
Amal Azhari quickly proved that her talent surpassed all expectations. Every summer season, she re-questions herself and challenges norms when designing an amazing collection completely different from what the market offers. Her collections are always imaginative, one-of-a-kind and greeted with overwhelming success.
Amal Azhari takes her inspiration from everywhere, fascinated by many designers and their magical combination of colors and shades. Her designs are dedicated to the ultimate modern and glamorous self-confident women. Her modern yet romantic twist creates a distinctive approach to her caftans and bags with soft edges. This refined edge and attention to details are present in the finishing of her unique pieces with bag insides that are handmade and that use luxurious fabrics such as Habutai, Tabby, Cotta, Curcuma, Cypress and Cotton Silk. All her fabrics are printed in India and Europe.
Amal Azhari Couture House's rising success has earned her a growing international reputation that has been spreading through the media. Her presence in showrooms in Paris and other major cities has allowed her to reach international acclaim and sales worldwide – Paris, London, Saint Tropez, Juan Les Pins, Monaco, Madrid, Beverly Hills, Miami, Los Angeles, Brazil, Nigeria, Ghana, Qatar, Dubai, Saudi Arabia, Kuwait and Lebanon.
Write-up and Photos courtesy of Art Hearts Fashion