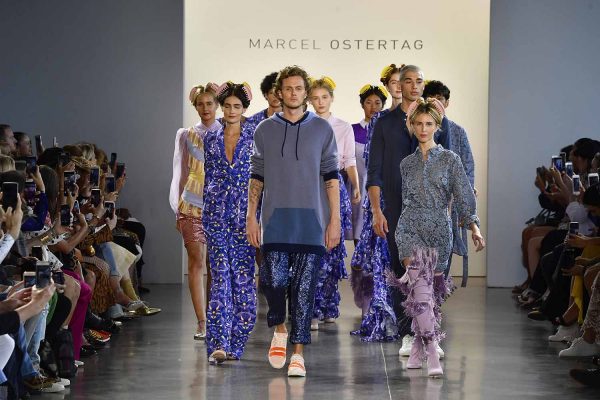 Meticulously designed and produced in Germany from the finest materials sourced from Italy, the Marcel Ostertag Spring/Summer 2019 collection is all about what inspires him. Aptly title, "MUSE," the German-born designer shared his muses with his audience.
There are several women that Ostertag considers muses but none more important than his mother, Doris. Said the designer after his show, "My mother's love and guidance are always present in my heart. Her unwavering support allows me to design freely and to follow my creative dreams."
Ostertag's MUSE is a tactile and colorful journey influenced deeply by the close relationships with the muses in his life. The designer feels "Kissed by the muse" every day and their inspiration on his collection and daily life is something he is grateful for. In a tribute to these special women, he dedicates MUSE to them.
The designer also cites the music, art and fashion of the 70's, a decade that continuously fascinates him, as a source of inspiration for this collection. The highwaisted, pleated pants and sequined bell sleeve tops, as well as the various takes on the ubiquitous wrap-dress in particular give a nod to 70's silhouette throughout the collection. Despite the obvious vintage inspired vibe, the entire collection still felt completely fresh and modern due to Ostertag's masterly touch.
MUSE is a joyful explosion of yellows, blues, lavenders, oranges and nudes that was summed up perfectly in his Rainbow sweater; a cashmere crew comprising of over 24 shades of brightly colored yarn.
Other highlights of the show were the over embroidered and beaded pants, Iris printed charmeuse ruffle tiered gown, and the blush sequined mesh top. Standouts from the men's capsule collection were the oversized color blocked cashmere hoodie and Fuji silk jumpsuit (as well as a wildly editorial, but ultimately niche version in blush micro sequins).
Marcel Ostertag shoes again were produced by German footwear manufacturef Tamaris. The women's shoes featured block heeled suede booties, kitten heel pumps and a show stopping knee length knit and fringed boot in lavender. For the men, white sneakers featuring pops of bright colored elastic bands across the instep that are sure to be best sellers.
Photos courtesy of Marcel Ostertag