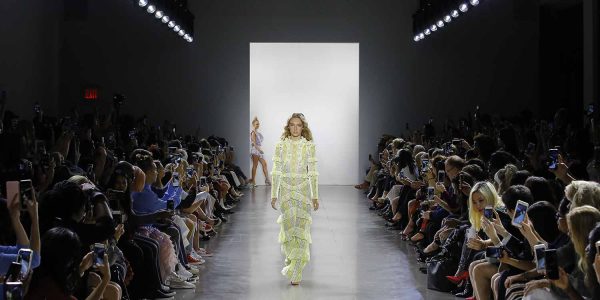 Botany 101 taught us that fruits start as flowers, i.e., after a bird or a bee pollinates a flower, it grows to be a fruit. Sometimes, even the wind can do it. That's science. But, fashion has a different point of view.
To be specific, designer Vivienne Hu has a different vision. Inspired by flowers and fruits for Spring 2019, the New York-based designer thinks of flowers as "all dainty and ravishing beauties" while "fruits resemble the struggles in our life."
Science and fashion might be dichotomous in their opinions, but one thing remains the same – flowers and fruits, whether they exist in nature or on the catwalk are deliciously beautiful.
Proposing a youthful and vibrant collection, Vivienne Hu played with shapes and textures to embody the organic shapes of flowers and fruits. From the ethereal quality of blooms came features like ruffles, pleating and ruching to replicate the floral structure.
For the more solid structure of fruits, classic tailored jackets were given architectural shapes. Denim and jacquard were incorporated in the collection for their texture and weight.
Vivienne Hu also had two surprises this season for her loyal clientele. Spring 2019 marks the debut of the Vivienne Hu Couture and Red Carpet line which features exclusive designs that are only made to order.
Vivienne Hu also collaborated with Ex:beaute, a high-quality makeup brand from Tokyo Japan, which has released exclusive lipstick palettes "for Vivienne Hu SS19". The lipstick palette includes five colors, Modern Red, Premium Pink, Soft Orange, French Beige, and Sweet Pink, which can be applied in a creative way to suit the needs for the trendy Vivienne Hu girl. Ex:beaute shared same vision with VivienneHu, aiming to provide customers the best experience with devotion and passion. The exclusive collaboration was a huge success and opened up more space for future international collaborations.
photos: Thomas Barnes