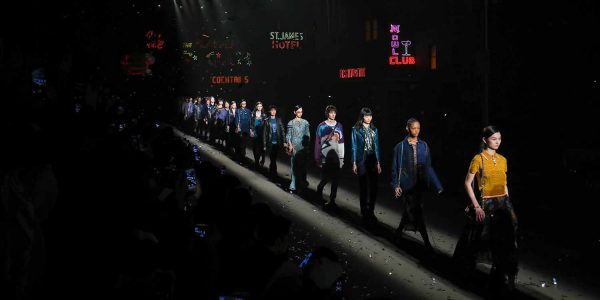 Washington D.C. and Beijing might be at odds on the trade negotiating table, but Coach's Stuart Vevers proved that fashion easily soothes ruffled feathers as he wowed the crowd in Shanghai's West Bund Art Center with his Pre Fall 2019 men's and women's collection in the brand's first ever runway show in China.
Wowing a full-capacity crowd at Asia's top art platform, Vever's sent 54 looks on the catwalk that was inspired by Coach's optimistic and inclusive attitude. The theme and the purpose – bringing two of the world's most unique, vibrant cities – Shanghai and New York – and celebrate their energy with a neon spectacle highlighting the "bright lights, big city" attitude they share.
The collection represented a sensory experience that explores the unique attitude of New York City – and Coach's place within it. With the venue designed to evoke a twilight world where rock-and-roll's elegance is suggestive, silhouettes are reminiscent of Alice Cooper's bold early 1970s aesthetic.
Elongated tailoring and tall, patchwork shoes gave way to exaggerated handkerchief hems on floral dresses. Lightly draped, soft leather and suede jackets – like a second-skin. Brightly colored, cloud-like shearling "chubby" jackets and loveworn mohair sweaters – boldly graphic like vibrant abstract paintings.
The Dreamer bag evolved with a dressed-up kisslock closure, lavish crafted patchwork over Coach's Signature pattern. Collaborations with contemporary creatives based in China are at the heart of the collection as they reimagined Coach's beloved dinosaur, Rexy. Sui Jianguo's T-Rex sculpture is photographed to create a distorted photo print.
Music collective YETI OUT incorporated Rexy into their signature graphic round face. Zhu Jingyi playfully recontextualized the brand's mascot in an authentic ink drawing and graphic artist Guang Yu reinterpreted Rexy in a fierce hand-drawn graffiti print.
Photos courtesy of Coach