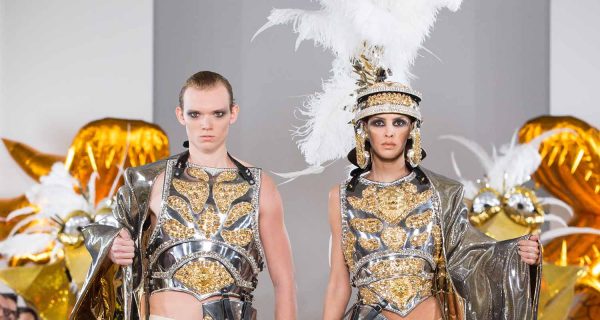 A hint of derision
A taste for games of words and wit
An unconditional love for craftsmanship handmade
An inexhaustible curiosity for technology and the epoque.
At the On Aura Tout Vu show, the audience was greeted by two golden dragons, the background narration mentioned Nicholas Flamel, a French alchemist believed to have discovered the philosopher's stone and achieved immortality.
With the collection titled "Alchemist," it was fitting to mention Monsieur Flamel. To Harry Potter fans, he is just a character, but to French historian, the illustrated Nicholas Flamel did exist. So, it's not surprising that On Aura Tout Vu gave homage to him. After all, they are also alchemists of sorts, albeit in the fashion sense of the word.
It has been 20 years since On Aura Tout Vu took the fashion world by storm. Their unique approach to fashion is thriving. Resistant to conformism while exploring with the greatest freedom of various forms of expressions.
On Aura Tout Vu think and live fashion differently. Their array of tools – embroidery, weaving, painting, sculpture, welding, sewing – are available to everyone. The difference is how they wield them. After 20 years, they have mastered their craft.
But, they are not sitting on their laurels. On Aura Tout Vu is in search of new symbiosis. Perhaps it's the magical association of the elements to create a mystic of beauty. Maybe it is true alchemy that they are searching for – spontaneous, intuitive, a transmutation of surprise and astonishment.
When they unveiled their Spring/Summer 2019 collection, they might have found it as they turned lead (black garments) into gold (nude colors with metal embellishments). The looks are magical! On Aura Tout Vu might not be sorcerers but there is no denying that they are fashion wizards.
ALCHIMIA like a muse revealed, sharing for a symbolic birthday.
P.S. The runway show was On Aura Tout Vu's symbolic 20th anniversary celebration. So, the whole atelier took a bow.
PHOTO CREDIT: Elizabeth Pantaleo, courtesy of On Aura Tout Vu (still photos below the video)