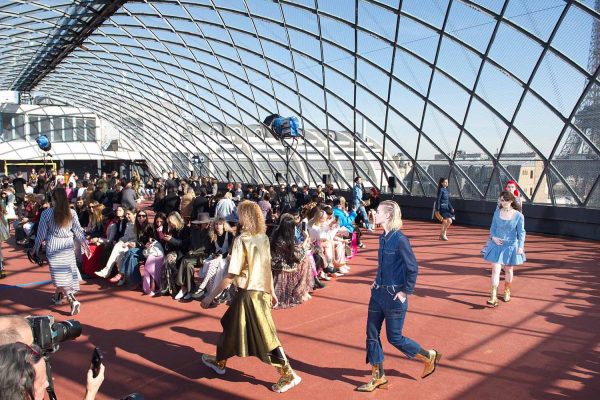 Choosing to show their Spring/Summer 2019 collection during the Autumn/Winter 2019-20 Paris season, MARQUES 'ALMEIDA designers Marta and Paolo continued to interpret their Portuguese roots on the catwalk.
The show was held at Lycée Saint-Louis-de-Gonzague, which was one of their M'A girl, Laurenca's high school. "Walking for MA in my old high school gym feels really special, like some sort of full circle empowerment. Doing it for M'A makes it even more special, it all feels like a big caring family and I love everyone involved", Laurenca d'Orey.
As already mentioned, the collection was a continuation on instantly interpretation Marta and Paulo's Portuguese roots through the eyes of a brand created and revolving around its London and European community and girls. The full looks featured pinks, gold and ivory colors with the inclusion of a traditional Portuguese brocade in its original form of blue and negatively pink and black.
The show concluded with a song from M'A girl Cosima's 'R U Loneley 2.
Photos courtesy of Marques Almeida