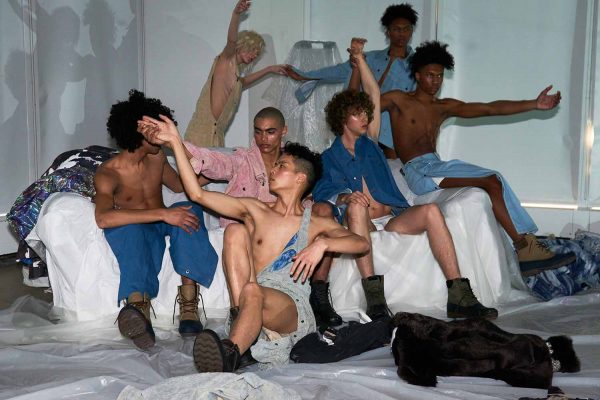 With a thought-provoking title of "Cowboy Who Cried Wasabi Tears," London-based label Ka Wa Key reinterpreted the traditional American denim wear with thoughts of the two main characters in Brokeback Mountain.
Inspired by this very long quote:
"It was your place where we kissed. Inhibitions evaporated, both of us were consumed by exploration of pleasure. It made things clear in my mind. Things, which had been vague. I realized what I needed. My new reality was molded."
"I know what it's like to be a good boy, top of the class, but now I wanted to disgust everyone instead of pleasing them. I wanted perversion. It was no longer enough for me to be me, I decided to be everyone, and feel everything in my body."
"Nothing, everything was gone. I opened my eyes, it was all in my head. This refuge is all. Is transcendent, I need nothing more, hidden here inside like two skins, one inside the other, two in one."
I am unsure if these were part of the dialogue in the movie but one thing I am sure of, the Fall 2019 collection was built on KA WA KEY's International Woolmark Prize 18/19 semifinal capsule collection idea and story of impossible love.
Original digital prints are designers' hand painted artworks. KA WA KEY's signature techniques devour and "cracked" are used to create unique textured prints.
Silhouettes and shapes vary from relaxed to fitted, some garments feature interesting openings enabling to create deconstructed shapes. All the bags are the result of FREQUENT FLYER X KA WA KEY collaboration.
The show is a not just a presentation, it is a dance performed by seven models; changing between three looks in front of the audience and performing improvised movement story of impossible love and imaginative sensual orgy.
London based KA WA KEY thinks twink, explores hedonism, gender fluidity and soft masculinity.
Photo credit: Hunter Author, courtesy of Ka Wa Key