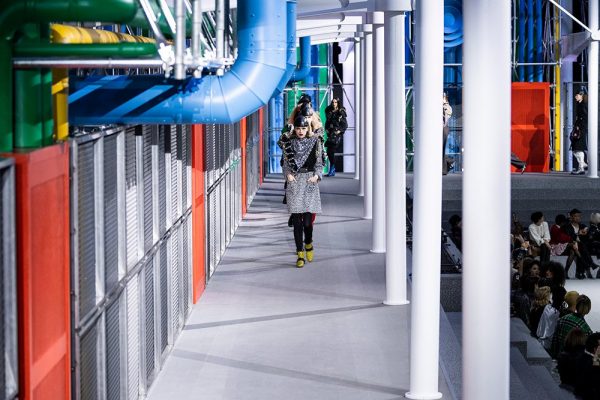 Louis Vuitton and the Centre Pompidou exemplified their shared dedications to culture by presenting the fashion brand's Fall/Winter 2019 show at the museum. Immediately, guests took in the architectural masterpiece's majestic hues of green, blue, yellow, and red as the passionate new looks went by.
A key facet of the show was old versus new—a dedication to historic and generational architecture and craft, and the latest techniques and designs that keep the brand's heritage going strong.
We saw that in accessories: the first of a smart and classic new bag, The LV Arch; a bold new tote with leopard print on the bottom half with filled in spots of teal and light yellow, and the top flap in black leather with punched out white holes; a mini Damier Ebène-patterned handbag with brown and maroon squares, white racing stripes down the front, and a purple handle that matched the brand's signature in a select few squares; and shoes, like the black, blue, yellow-and-black, and black-and-white patterned ankle boots with black leather and silver circular hardware on the sides.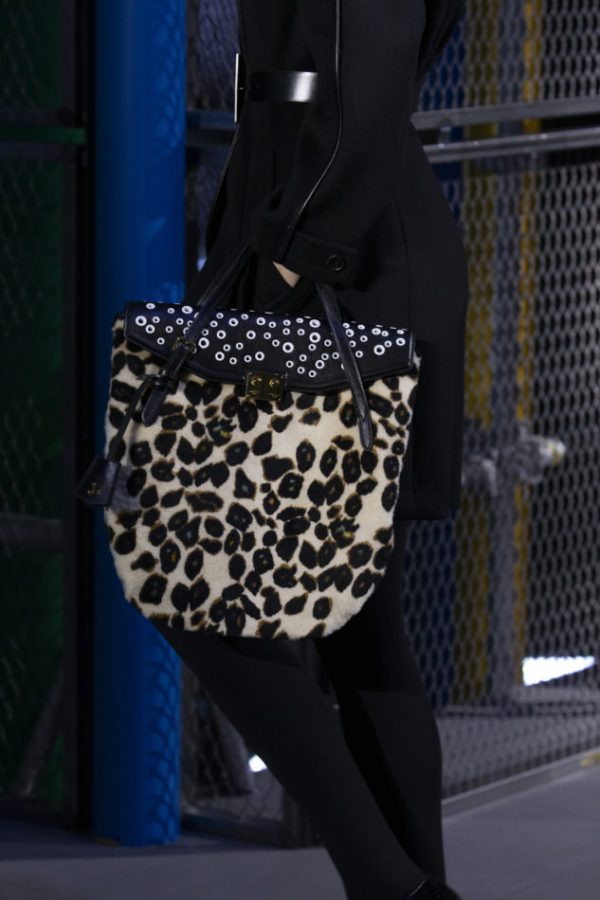 Another key aspect was confidence and conviction; knowing that the path you're on is right and rewarding. "Stylistic certainty" struck us in the collection notes, and again on the runway with tight leather hats, wide-sleeved vests, and a new LV monogram print on a shirt that reminded us of a luxurious car emblem. Varying references flashed before our eyes, seen in bellboy sleeves, bowling team laces, and denim and floral-patterned quilt-like tops. Chic, subtle details arose at ease, too, like ultra-thin black neckties slit open-ended, and pops of color on a skirt mirroring those from the museum poking out from beneath a double-breasted blazer.
"The Centre Pompidou, Beaubourg, Les Halles, Place des Innocents: A fascinating incubator of a neighborhood. An incredible melange, converging in the epicenter," said artistic director of women's collections, Nicolas Ghesquière. "The cliques, the styles, the life… I love that impression of a sartorial melting pot. Today, I've transposed it at Louis Vuitton: A house of multiple expressions."
Images courtesy of: Louis Vuitton & Imaxtree