French girls in French clothes in Paris. Iconic Rykiel.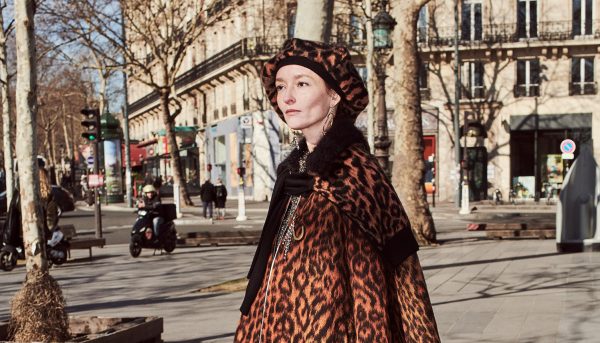 From the multi-generational throng of Rykiel women walking the
Allée Sonia Rykiel
which opened summer, to an intimate gallery of portraits for autumn/winter 2019.
Julie de Libran's collection for this season represents an exercise in personal style
'I wanted it to be about how each woman feels in the clothes. About dressing for oneself not for fashion. It is about being liberated, choosing one's own rhythm and pleasure.
This collection plays with the idea of the essence of the Parisienne, which is after all what Rykiel represents. A celebration of what Rykiel does best. There should be a sense of ease, and also a sense of surprise'.
Five women. Inside/outside. The street/the apartment. Quintessentially Parisian.
Following on from the bohemian spirit of pre-fall, there is a confident embrace of eclecticism. Anything goes, but everything somehow makes sense. This is a rejection of the uptight or the overly contrived. Neither costume nor uniform but free self- expression – the luxury of individualism. Each look has a distinct personality.
They are multi-dimensional and infinitely transformable. There is a dialogue of texture and colour. Textiles and knits combine in modern combination. In every look there is a detail which is special and different. The notion of day to evening and vice versa, which is so evidently Rykiel, is here stronger than ever.
Mousseline and sequins, velvet denim and knit, work together in a confident counterbalance for played down or dialed up dressiness. A pinstripe suit in lame, the St Germain tailoring in Prince of Wales check or a maxi stripe velvet trouser suit, explore the appropriation of the masculine wardrobe.
A kaleidoscopic play on the stripe runs throughout the collection. Whether in the execution of a fragmented multi-colored circular python print or in broken zig-zag or seersucker men's shirting.
The stripe informs and inspires almost every look in surprising and subtle ways; sequined stripes of fringing on delicate lace or velvet, an outsized black silk satin parka whose 'stripes' are designed by an interplay between padding and quilting.
Stripes interlace into a honeycomb knit for a sculptural dress or define the bodice of a mousseline dress with a horizontal sequin trompe l'oeil knit. The stripe also becomes a never- ending extension of pattern or garment in fringing on coats, knits, dresses, pants and skirts; a functional homage adding sassy, sexy movement.
Rykiel's take on classicism and continuity are also explored in the reworking of perennials. The lingerie dress, the knit dress, the handknit, the pea coat, the St Germain tailoring, the marinière turned on its side and deconstructed, De Nîmes which is given a velvet touch.
This exercise in the illustration of the multi-faceted personality of Rykiel signifies a deeper research for Julie de Libran. 'There is so much noise today in the world of fashion. I wanted to concentrate on the iconic values of Rykiel. It is a house created by a woman to make clothes for women which combine great style with functionality. It is very definitely about attitude and joie de vivre, not fashion. It is also about diversity and choice. Rykiel clothes should make a woman feel confident, beautiful, and sexy, for herself first and foremost. It's very personal.