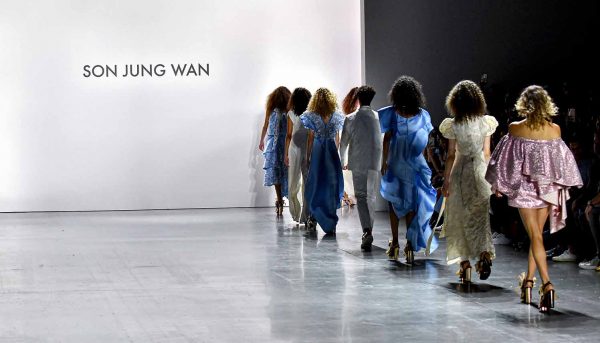 Son Jung Wan S/S20 collection is the epitome of spring. Presenting us with prints and springtime colors such as yellow, pink champagne, aqua and metallic copper.  Femininity at its finest. Bold materials such as beaded crystals in the collection showed that traditional springtime looks can always be reinvented into something extraordinary.
Although light colors such as pink, blue were the primary colors of the collection, neutral tones were also seen in the collection. White, and beige were colors  that added the juxtaposition of springtime flirty with sophisticated fun. Asymmetrical cuts showed that combining nontraditional materials with classic touches can create something fresh for spring.
Son Jung Wan collection showed that springtime can be edgy and inspiring in many instances. Through combining nontraditional patterns and textures with classic touches showed that reinvention is always in season.
Photos courtesy of Son Jung Wan