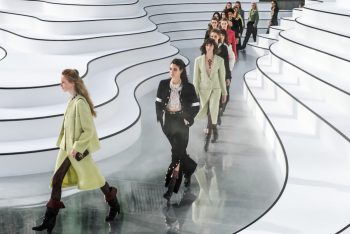 Chanel dazzled an eager crowd with its Fall/Winter 2020 collection. Fashion patrons that covet the brand's dazzling designs and sumptuous materials have, since the passing of Karl Lagerfeld, held their breaths for change. Would it be warranted? Exciting? How would the new Creative Director Virginie Viard infuse change? It's been a few seasons since then, but for the first time, it appears we're seeing a new direction woven into the brand's historic DNA.
Upon arriving at the Grand Palais, guests followed winding, tiered paths of white seats with black trim. Once the attendees were seated, models jaunted down a mirrored floor and around the bending pathways, parting through light footpaths of fog. The first of several pieces in the new line seemed to be born of pure romanticism—something out of an edgy, feminine fairytale.
"A very simple, very pure momentum. Romanticism but without any flourishes. Emotions but without any frills," jotted Viard in the collection notes.
Luxe looks of jockey silks, jodhpurs, and suits were all punctuated with eye-catching jewelry. Collar and chunky chain necklaces featured a new cross design, dangling with colorful gems and the brand's iconic logo. Brooches adopted a similar style, and belts and notable neckless matched other accessories' colors with chains and woven leather.
The new collection also presented looks fit for the effortless woman who has her pulse on what's been cool for ages, and what's cool right now. A of black wide-leg leather pants with snap side closures is paired with a black sweater featuring a cross made of blush pink, deep red, chalk white, and green "gemstones" in various textures. Above, a cross necklaces dangled in the same colors, overlapping what appears beneath in.
The matching tweed jacket and skirt combination returns, this time with an elongated ruffle bib collar up top and a high slit on the below-the-knee skirt down below. Black boots are folded over, revealing a brown leather lip on the other side; large black bows hold the hair in a half-up-half-down style; and a handful of new necessities and accessories—including tights, hats, bags, and the aforementioned belts and jewelry—complement all looks.
In celebration of the new line, the Dutch photographer duo Inez & Vinoodh created three short films to highlight the elevated looks. Starring Margaret Qualley and Rianne Van Rompaey, the films show the subjects' faces fading in and out of light, playing with transparency and the allure of Chanel.
"I love Chanel so much, this collection could only be a new ode," added Viard.