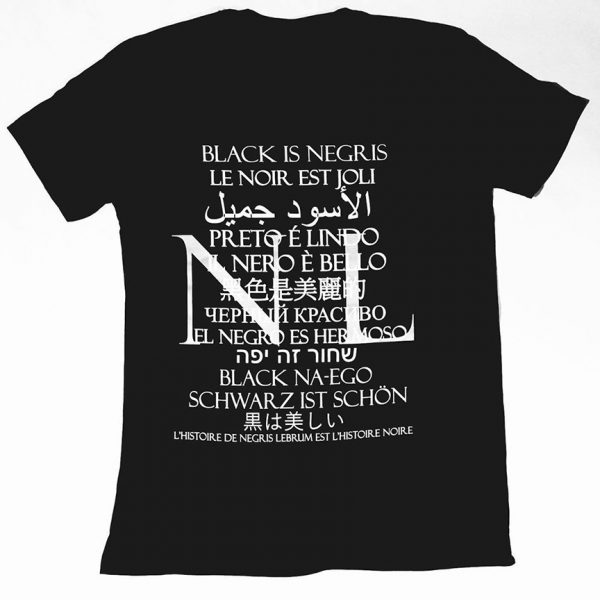 Travis Hamilton, the designer behind the Houston based label Negris Lebrum, began his collection 11 years ago with a small collection of 12 screen print t-shirts.  One of the very first ones paid homage to the collection's namesake muse Ms. Negris Lebrum herself with the phrase "LE NOIR EST JOLI" which translates as "Black is beautiful".  The line was in French, as Negris Lebrum was a proud Creole woman who chose to live her life as a proud Black woman, despite the fact that she was fair complexioned enough to "pass" as White, which was a common, albeit sad, trend of the day.  Ms. Lebrum chose to proudly be the person she was versus the woman that society told her she shouldn't be.  When she fell in love & chose to marry a darker skinned man, she was literally run out of her community for doing so.  This rebellious pride has long been a hallmark of the Negris Lebrum collection since Travis sketched his first design using his dear friend's name on the label.
"I originally made these t-shirts as a tribute to this intriguing woman's incredible story.  Today, in the environment in which we are currently living, the messages of pride in one's self from years ago communicate a loud message of the importance of inclusion," says Travis Hamilton. "This message of inclusion & pride in one's self & seeing others through non exclusionary eyes, is every bit as powerful today as it was back in 'the day'." – Negris Lebrum
In light of the recent movements born following the horrific recent acts in Minneapolis, Travis went back in his archive & remade one of the "vintage" pieces, but updated it with 12 languages instead of the original 5.  His "LE NOIR EST JOLI" message is beautifully translated into English, French, Arabic, Portuguese, Italian, Mandarin Chinese, Russian, Spanish, Hebrew, Ibo, German, & Japanese.  The beauty of each language, all stating one unified message, speaks to the way we as humans ought to view each other & the beauty that lines within each human being simply because they are present. Of course, there's a definite cheeky nod to the universal fashion truth that "the color black is fashionably beautiful" as well… but that's another story…
The newly released 12 language version of the t-shirt is available on the Negris Lebrum site www.negrislebrum.com for $55.00 in Women's & Men's sizes, all in super soft 100% combed cotton in black or charcoal gray.  A direct link follows:  https://www.negrislebrum.com/product-page/global-tee
Travis hopes that this time around, the message will transcend trend & emerge as a universal truth.  Any support you can give to Travis & his Negris Lebrum label to spread this message is truly appreciated.