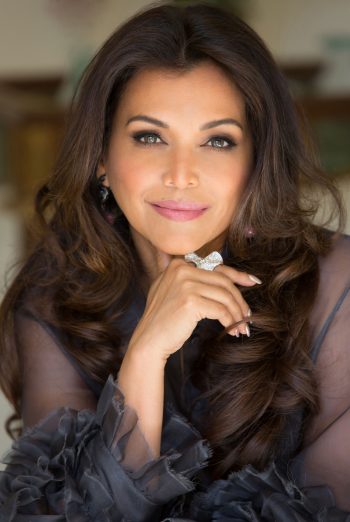 Deborah Sawaf's  couture approach is synonymous with her Thalé Blanc handbag collection and was evident throughout the collection of dresses, coats, tops, skirts, pants & vests.
Thoughtful detailing like quilted panels along with logo & verbiage printed taping provided sporty edginess that married flawlessly with higher end touches like the most luxurious fabrications in the market today & whimsical plays on proportion that are more commonly seen in the efforts of her avant garde European counterparts.
The collection also seized the moment to embrace the 'see now buy now' trend that has been gaining momentum of late.  Almost the entire collection is available on-line at www.ThaleBlanc.com either available immediately or as a pre-order with only a 5 week wait from order to delivery.
Deborah Sawaf took over the company she founded about 8 years ago, where she now sits as CEO & Creative Director, she has been speaking to every detail of her company's operation, from concept to final consumer.  Her move towards showing in season & considering numerous alternative methods of order fulfillment, as well as her decision to show in NYFW during the first ever all virtual show week, are clear indicators that there is a new life at Thalé Blanc & it emanates from the sketch pad of the creator herself.
"With Thalé Blanc Statements, I set out to give today's modern woman, who is as likely to be a corporate executive or actor as she is to be a mother or philanthropist, a new version of what is quintessentially thought of as the 'LA Look'.  Think Hollywood meets music meets fashion… it's a new LA-vibe… a basic with a serious twist that leaves people saying, 'YOU look beautiful!'" – Deborah Sawaf, Creative Director of Thalé Blanc