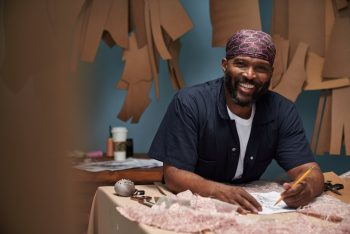 In collaboration with Dixon Place and Creative Performances, legendary Fashion Designer Byron Lars will be presenting looks from his Fall 2021 Collection and the Holiday Collection together with fashion accessories by Sheila Gray Collection, for the 6th Annual StylePointe showcase.
This year's collaboration entitled "Moving Forward," brings together together two of NYC's most vibrant institutions along with fashion designers to showcase their collections. Dance choreographers and fashion designers work together to create a unique fashion-and-dance runway experience. The stories and inspiration behind the each collection are told through movement and choreography.
The collection presented is from Lars' newest brand In Earnest and called "Ath-Rom" an abbreviation for Athletic/Romanticism. The styles are a reconciliation of the past one and a half years that we've spent in "jammies" comfort at home and our foray back into in-person encounters that very thankfully demand more effort on our style frontier. The result?… super comfy tracksuit hybrid's in pretty stretch laces and sumptuous velvets that have an almost poetic sensibility.
"I've been designing clothes for a long time and I know that in addition to beauty, clothes are also about functionality and movement. Clothes that you can dance in are more than likely clothes that you can live in. It's a natural pairing to work on this project with StylePointe. I'm really excited to see these clothes in this way," says designer Byron Lars.
Producer Sangeeta Yesley and co-curator Mariana Leung have invited emerging and established fashion designers with complete collections to submit work samples for this unique annual showcase. A series of wonderful collections were selected with diverse backgrounds and paired with choreographers representing various dance styles who then created unique dance vignettes and assembled professional dancers to showcase each of the fashion collections.
ABOUT BRYON LARS & IN EARNEST
'In Earnest' is the name and credo of this newest Byron Lars venture co-founded with longtime colleague Sheila Gray. His legacy of expert fit, impeccable craftsmanship and obsessive- compulsive attention to detail is a testament to Byron's advocacy for women through the very product he so lovingly belabors over on their behalf. Ergo since by definition In Earnest means, "existing to a greater extent or more intensely than before." There are sure to be some "earnestly" happy and well-dressed women as a result of this eagerly anticipated rebranding.
General Public Event: Friday, September 10 & Saturday, September 11 at 7:30 p.m.
Location:
Dixon Place
161A Chrystie Street
New York, NY 10002