Louis Vuitton's recent collection, unveiled at the Cour Carré in the Louvre, was created by the Prêt-à-Porter Homme Studio that Abloh had chosen and trained, and was all about tribute and remembrance. From Kendrick Lamar's homage, crowned with thorns made by Tiffany & Co., to the location that reproduced the circuit of a toy train, Virgil Abloh's legacy was not re-proposed with sad shadows of nostalgia, but in a fresh and jovial key.
Paper aeroplanes landed on a black suit, a coat decorated with the contents of a toolbox, a multicoloured flower monogram: Pindaric flights within juxtaposed codes. The collection condensed all the elements that have led the brand to become LVMH's flagship brand under Abloh, yet brought nothing new to the brand's imagery, with what was the fourth tribute collection in just eight months.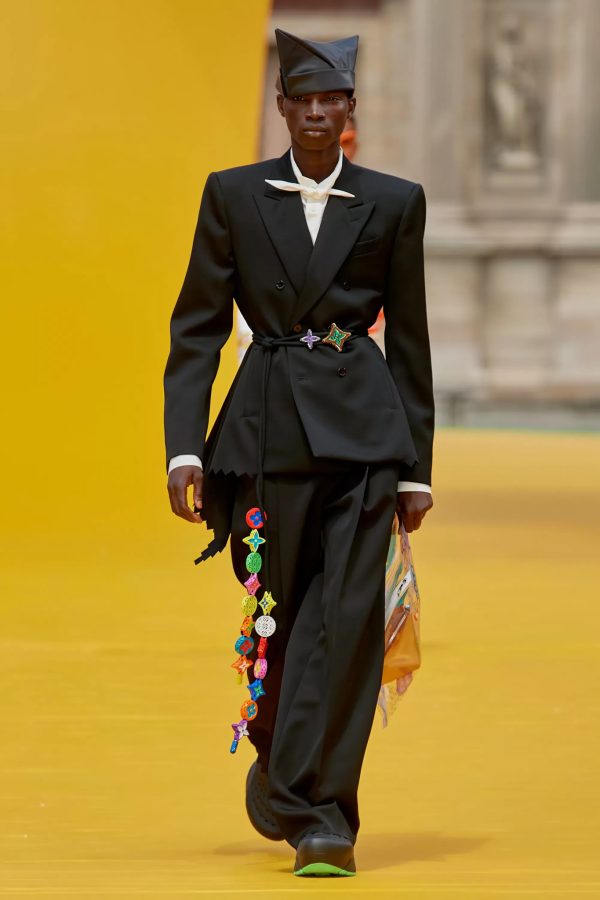 On the one hand, the collection is the result of a desire to celebrate a creative who revolutionised the world of fashion, socially and aesthetically forever, also irrevocably changing the perception of the very role of creative director. On the other hand, the garments and symbols typical of Virgil's legacy at this point seem the easiest and surest way to sell.
" Abloh's impact on LV was unquestionable and significant, given he was not the founder. His true legacy is Off-White™. The best way to celebrate him at this point is to bring in new creatives of colour (as he himself had done in the past on his team) with the aim of providing a new creative impetus. […] We are now on our third, fourth tribute to Virgil and it's starting to feel a bit 'opportunistic." – Jordan Anderson, editor-at-large of NSS
Louis Vuitton CEO Michael Burke said in November that the fashion house was in no hurry to look for a replacement, also given the amount of ideas that the creative had left the brand, but after the last show it seems that the team is ready to start again: Burke said "we will move on to the next phase".