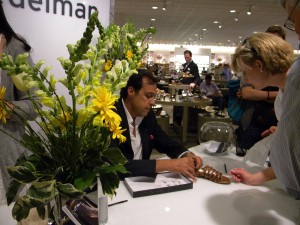 DALLAS, Apr 11, 2010 / FW/ — Making his first personal appearance in Dallas yesterday, Sam Edelman caused a shoe shopping mayhem in Nordstrom at Northpark Center, the Big D's premiere mall.
"I love these shoes. They're high fashion but very comfortable," commented Betsy Jo Naylor, a new Sam Edelman convert who discovered him only last Christmas but already owns several pairs plus her purchases yesterday.
And, Ms. Naylor is not alone in giving praises to Sam Edelman. Her best friend, Mary St. Claire feels the same way.
"Betsy and I always shop together and we found Sam Edelman at the same time. It was love at first sight," said Ms. St. Claire who had already chosen two pairs but was trying to decide whether to get a third one when we were speaking.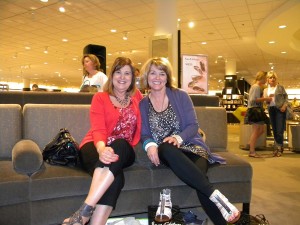 Weekends at Northpark Center is always busy, but on Saturday, it was just hectic at Nordstrom's shoe department as women kept on trying pairs of shoes one after the other, then making a beeline to the cash register right after.
They just can't get enough of Sam Edelman's gladiator sandals and wedges and of course the new Spring / Summer 2010 collection that just hit the sales floor.
Sam Edelman, founder and designer of the footwear, whose oversized-hand-drawn signature is printed on the insole of every Sam Edelman shoe, is personally signing the shoes and/or the shoe box.
Yet, no matter how long the line was, he still managed to give style tips and chat for a few seconds with almost everyone.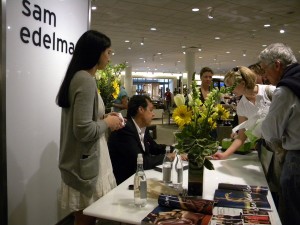 "The Spring / Summer 2010 collection is all about cleaned-up, sexy, rock & roll looks with nature elements added," said shoe designer Sam Edelman. "It's bohemian meets downtown girl meets Upper East Side luxe."
When asked what was the inspiration for the collection, Sam Edelman answered, "It's actually a who, not a what. Charlotte Kemp Muhl was my muse for this collection."
Singer, actress and model Charlotte Kemp Muhl is currently better known as Sean Lennon's girlfriend than her impressive work on fashion. The 23-year old Atlanta native started modeling at 13 and has been featured in campaigns for Tommy Hilfiger, Sisley, D&G, Donna Karan, Maybelline, Swarovski, and Jennifer Lopez's brand J.LO. Muhl was also the spokesmodel of Vidal Sassoon in Asia.
And though some might disagree, Charlotte Kemp Muhl's high fashion persona together with her strong rock & roll leanings plus the paparazzi obsession of her relationship with Sean Lennon – all these elements combined actually makes up today's psyche.
With that in mind, it was not surprising that the women trying on Sam Edelman's shoes are from four generations – the Digital, the Gen Y, the Gen X and the Baby Boomers. Bridging the gap between generations is not easy, but if one has his finger on the pulse of today's women like Sam Edelman, it feels effortless.
Betsy Jo Naylor and Mary St. Claire, both from the Dallas-Fort Worth area summed up nicely why they like Sam Edelman shoes. "They're cute, they're comfy, they're trendy. And we just love the zipper at the back!"