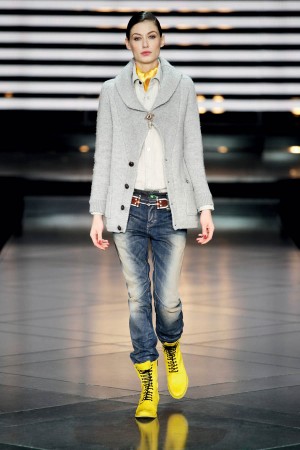 NEW YORK, Apr 18, 2010 / — For Fall/Winter 2010, an extensive selection of denim and denim-complementary garments gives women the opportunity to build a unique personal wardrobe that ranges from hardcore street-wear to high-end tailored sophistication.
The fresh colors of G-Star's experimental NY RAW couture collection – launched at New York Fashion Week – have been carried through into the Fall/Winter mainline. Strong Bright Yellow, Nassau Blue and Car Green garments are added to a selection of new luxury light denim washes to complement G-Star's traditionally dark denim palette.
RAW Essentials reclaims G-Star's territory of high-end denim specialist; Organic RAW blends sustainable denim with work-wear styling; Correct Line presents a range of denim-complementary, tailored pieces; and Low-T blends modern denim silhouettes with feminine elegance.
DENIM CORE
RAW ESSENTIALS – SIGNATURE DENIM
From its inception, G-Star set out to reposition denim as a luxury, craftsmanship-led product. Today, G-Star recaptures this pioneering spirit and reclaims its high-end denim territory with the new RAW Essentials range. This special 'no compromise' program takes the finest selvedge denim and adds supreme craftsmanship, washings and trimmings to create the pinnacle of G-Star's denim range.
Vintage influences are mixed with a modern, big-city street style to create a range that avoids the "boring authentic replicas" trap, basing pant styles around the distinctive low-crotch, tapered-leg silhouette unique to G-Star. A selection of jerseys, shirts, knits and jackets with the same spirit complement the denim selection, including the duffel-style Essential Coat and heavy wool Highbury Cardigan Knit, both available in a fresh yellow.
ORGANIC RAW – SUSTAINABLE DENIM
For Fall/Winter 2010, the Organic Raw range plays with the concept of 'Inside-Out', taking architectural and craftsmanship details usually hidden from view on the inside of garments, such as bindings, hem turnings and lining shapes, and instead placing them on the outside. This idea of challenging traditional construction also underpins the women's distinctive Organic Limit Breaker Sweat, where a denim body section is combined into an all-in-one sweat suit.
Chambray denim jackets and blazers emphasize their work-wear inspired roots with oversized detailing, including patched-on front pockets and rugged metal buttons, while shirts feature lengthened front pockets and vintage-style stud closures.
FEMALE ELEGANCE
CORRECT LINE – DRESSING UP DENIM
For Fall/Winter 2010, the emphasis within the Correct Line range is on denim-complementary textures, with elegant shirts and tops in silk and sateen finishes added to a broad selection of jackets in canvas, wool and leather. A selection of dresses in super lightweight denim and flowing fabrics further expand the original Correct Line range.
A broad range of coats top the collection, including the herringbone Fay Long Coat and the heavy wool, mid-thigh length Fay Trench, while the Matre Knit Jacket in super-fine wool and Bette Short Leather Jacket add a touch of elegant glamour.
LOW-T – ELEGANT DENIM
The Low-T collection fuses G-Star DNA with the unique style of actress and model, Liv Tyler, to create a range that embraces the look and feel of the modern G-Star woman; cool, sophisticated and controlled.
Skinny, tapered and loose-tapered denim fits are executed in soft, feminine fabrics, with a color palette ranging from fresh blue to a shiny, leather-look black. All three denim silhouettes have a longer inseam to look great with high heels, and are available in flattering, soft-stretch denim fabrics, as well as Elastene-impregnated comfort denim.
G-Star's traditional fusion of raw and elegant elements can be seen in the contrast of denim skirts in a broad selection of washes and finishes with sensual tops in a restrained colour palette and super-lightweight fabrics, including the sleeveless Low-T Top and the Low-T Dress Shirt with its half-length sleeve and neck-tie detailing. A crepe bomber jacket and boxy-cut dinner jacket complete the range.