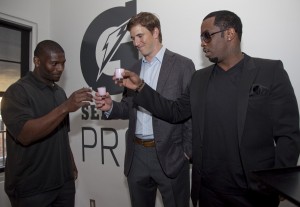 DALLAS, Apr 19, 2010 / FW/ — Sports enthusiast or not, the average consumer has probably not heard of Gatorade G Series Pro because for the past 15 years, the G Series Pro products have only been available to college and pro athletes.
But, beginning May 1, it will be available to a broader segment of the sporting world as the Gatorade G Series Pro becomes available at the 5,500 GNC outlets nationwide before hitting wider distribution on June 1.
Originally developed by the Gatorade Sports Science Institute to meet the needs of professional and aspiring professional athletes, the G Series Pro products delivers the fuel, fluids and nutrients elite athletes need for before, during and after a workout, practice or competition.
To celebrate the broader reach of the Gatorade G Series Pro, elite athletes Eli Manning and LaDainian Tomlinson joined top media and celebrities like P. Diddy in New York City at an exclusive Gatorade's G Series Pro event lastTuesday, April 13.
The event transformed a high-end Soho loft to dramatically communicate the premium quality of the new product line and capture the mindset of a pro athlete who thinks about sports performance 24/7.
The party started rocking early with more than 100 guests including New York Jet players D'Brickashaw Ferguson, and Jericho Cotchery.