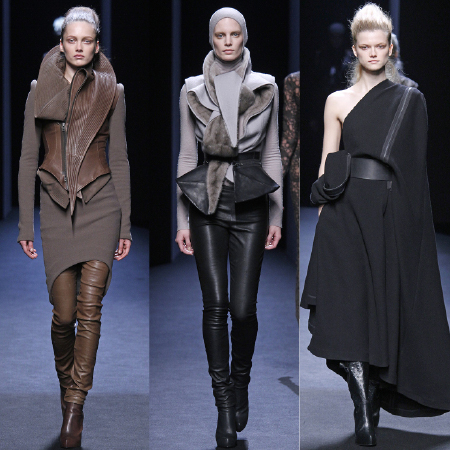 PARIS, May 1, 2010 / FW/ — When Haider Ackermann creates a collection, he puts into account practicality and wearability while keeping everything artistic. He does not compromise creativity with commercialism, thus making Haider Ackermann a rarity these days.
With masterful construction of the shapes and forms, Haider Ackermann proposes narrow jackets and a modified corset that features a raised collar making it resemble a petal.
The vest of gray sheepskin, black skin and short fur with snakeskin added for texture, Haider Ackermann created from intricate draping.
Standout include a black woolen cape (or is it a great coat) that was cut like an ancient Greek tunic, with zippers on both shoulders allowing the wearer to zip or unzip depending whether she wants to show her arms or cover them. The narrow waist is emphasized by a broad plain belt with a small original pocket.
Severe silhouettes that are also very strong, Haider Ackermann's masterful use of draping added femininity and charm and thus softening this very aggressive image.
[LIDIA BARDINA]
Photos: Haider Ackermann