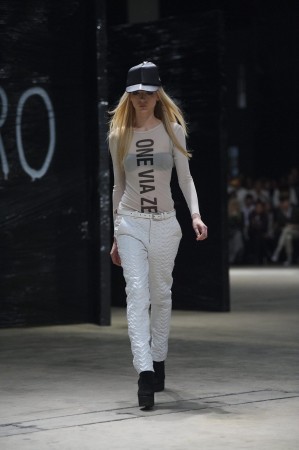 SYDNEY & DALLAS, May 12, 2010 / FW/ — Celebrating Ksubi's 10th anniversary, Dan Single and George Gorrow, co-founders and directors of the brand returned to the stage where they made their debut, Australian Fashion Week.
On Friday, May 7th, Ksubi presented its latest collection, "One Via Zero" which was inspired by the gang culture and insignia and styled by Australia's international fashion icon, Brana Wolf.
"Teri Toye would have looked great in our clothes this season," wrote Dan and George in their press notes. "From scarification used by indigenous peoples across the world, through to more recent street subculture references, in particular the Australian underground music scene of the late 70s and early 80s."
During the past 10 years, Ksubi has developed an androgynous silhouette; a uniform, wearable look that captures the essence of "the tribe". Pushing their art through texture rather than print, new fabrics were developed using a combination of traditional and artisan techniques as well as modern methods.
For ten years, ideas, individuality and authenticity has developed the Australian brand into an underground subculture, a lifestyle—an international presence with a cult following. Prints have been inspired by photographer John Divola's 1980s Vandalism series and nostalgic Australian iconography.
[MARI DAVIS]