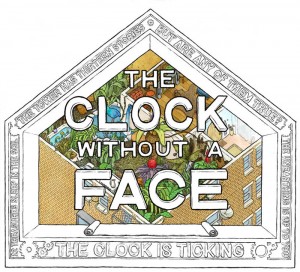 NEW YORK, Jun 4, 2010 / — This much is true… Twelve emerald-studded numbers, each handmade and one-of-a-kind, have been buried in twelve holes across this fine land.
These treasures will belong to whoever digs them up first. The question: Where to dig?
 The only path to the answer: Solve the riddle of… The Clock Without a Face.
It's a treasure hunt based on a book by Gus Twintig (a pseudonym for Scott Teplin, Mac Barnett, and Eli Horowitz) published by McSweeney's Books.
Anna Sheffield, who is known for her whimsical creations, was commissioned to create twelve emerald-studded numbers from the faceless clock, each handmade and one-of-a-kind. All twelve were placed in adorned boxes and buried in 12 spots across the United States.
The secret to find these one-of-a-kind pieces, however, can only be solved by reading the book, created by acclaimed children's book author Mac Barnett, McSweeney's editor Eli Horowitz and celebrated illustrators Scott Teplin and Adam Rex.
The house-shaped book offers clues hidden in the storyline and rich illustrations, giving adventure seekers a chance to find a real treasure of their own.
The treasure hunt was launched in New York City last May 27th. In one week, numbers 3, 4, 7, 8 and 11 have already been unearthed!
But, don't worry, there is still time. Just pick up a book today: The Clock Without a Face
And for those who do not solve the mystery in time, Anna Sheffield will be creating a made-to-order "Lucky Number 3 Necklace" and Numbers 1-11 for purchase at www.bingbangnyc.com  for $85 each.