MILAN, Jun 14, 2010 / — This June, just like it was in 2007, Henry Cotton's exhibition space at Pitti Immagine will be transformed into a mini gallery where the works of four contemporary artists: : Luciana Majoni, Thomas Robert, Mauro Mori and Beppe Ortile will be displayed.
Art and design has always been part of Henry Cotton's DNA. In fact, in January 2009 in Pitti, a selection of photos by the famous Florentine artist Luciana Majoni documenting the work of architect Roberto Gerosa while designing Henry Cotton's flagship displayed at Henry Cotton's exhibition space.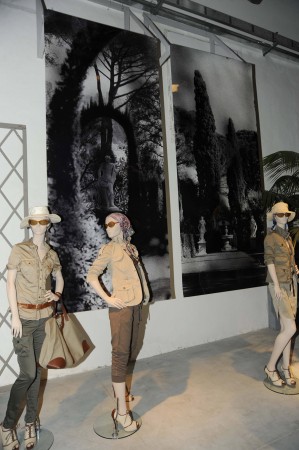 For 2010, once again Luciana Majoni is dressing the walls of the Henry Cotton booth at Pitti Immagine with large photographs of 3 x 1.30 m hung like banners.
Source of inspiration is the "Grand Tour" of English travelers in Italy from the late seventeenth to early nineteenth century.
The places photographed by the artist in Florence – the garden of Villa La Pietra in the museum Stibbert up to the English Cemetery in Piazza Donatello – are a brief summary of the many areas in which English culture has left its testimony.
As "travel notes", the prints were made with the airbrush to emphasize the hand painting and then magnified out of proportion to give the visitor a complete and total immersion in the image.
From Thomas Robert, sculptor and designer, born in 1950 in Belfast and working in Milan since 1992, are Birdhouses, or a series of works placed in different parts of the stand, made entirely of wood, processed to enhance color and grains.
An abstraction of the concept of "home-nest" expressly inspired by the natural world works gives a strong visual impact and contemporary character.
Mauro Mori, born in Cremona in 1965 and now works in his own atelier in Milan since 1998, has made the spherical structure of the table LEO positioned at the center of the stand.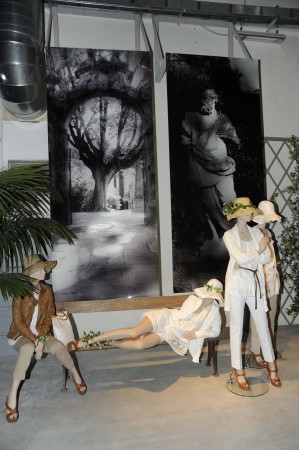 Beppe Ortile presents large bamboo structures located at the entrance. The artist for years is passionately dedicated to the processing of this material, creating sculptures and installations in which nature itself becomes a work of art.