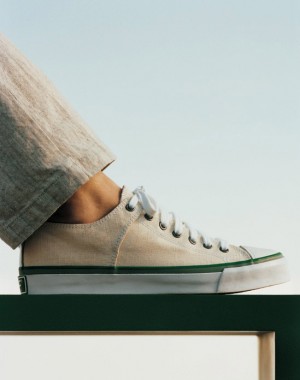 DALLAS, Jun 4, 2010 / FW/ — For summer 2010, PF Flyers is reaching back into its heritage by making the old into new with the release of PF Flyers Bob Cousy Lo, a new interpretation of the original Bob Cousy Lo All-American shoe released in 1956.
The PF Flyers Bob Cousy Lo is a rare basketball low top, which was worn by the sport's first superstar, Bob Cousy. It has a one-of-a-kind Gullwing Closure™ and model-specific logo markings as well as a Posture Foundation insole.
PF bridges the classic sport shoe with modern fashion. PF Flyers continues to set the standard in timeless luxury sneakers. The PF Flyers Bob Cousy Lo is an easy to wear, lightweight sneaker perfect for upcoming summer activities!
Forward fashion and classic sport intersect throughout the spring collection. A seven-decade tradition of sport and leisure come to life with the punch of pennant colors for spring.
Available in red canvas, as well as natural, black, navy, light grey, and ivory at Neiman Marcus department stores (MSRP:$70.00).