NEW YORK, Aug 26, 2010 / FW/ — Just two months after the successful launch of C.LILI's Anais, Lorena, Marielle and Aurelia styles in New York, designer Coralie Charriol is taking it national via a collaboration with QVC.
On Monday, August 30th at 7:00 PM, c.lili by Coralie Charriol debuts on QVC featuring two of the label's four glamorous and modern styles – Anais and Lorena. And with prices under $300, it's reason enough to get one.

Anais – This is a bag that was inspired by Coralie Charriol's own daughter, and made for the stylish city mom who needs to carry a lot but who wants to look effortless doing it. Its sturdy wide strap coupled with plush leather body form the perfect combination that meets that style requirement.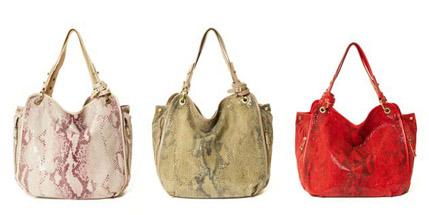 Lorena – A hobo, Lorena is inspired by the very fashionable friend we all have, the au naturel who embodies bohemian chic and relaxed elegance. An outside pocket for essentials and a shoulder strap are elements that keep it practical. It's a bag one will turn to again and again, so much so that you'll have to buy two,

Marielle – The "It" bag anyone would easily add to her collection, Marielle is for the girl who dons the top designers and loves having a bag to match. Marielle is perfect for day as well as an evening out, with its easy sense of sophistication. The circular motif of the hardware, elegant link chain, and lush fabrication are the kinds of elements that add up to high style.

Aurelia – There's always one must-have bag in each collection and Aurelia is it. Roomy enough to fit everything one needs, it is lightweight, with sturdy straps and outside pockets that make it the bag for a girl-on-the-go. Aurelia is the bag you'll grab before boarding the plane or the one carried to the office holding your evening bag and change of shoes for a night on the town.