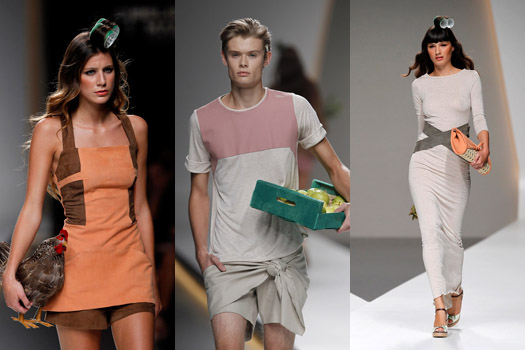 MADRID, Oct 22, 2010 / — Unveiled on Sep 17, 2010 during Cibeles Madrid Fashion Week, Cuca Ferrá entitled the Bohento Spring 2011 collection "Le Marche" and instead of press notes, a poem was written. It is reprinted below:
LE MARCHÉ
Forged iron structures
transfer a halo of light into a space that
reflects the spontaneity of feelings.
The fisherman, the butcher, the greengrocer…
surrounded by crates, aprons, weighing machines, scales,
packaging, cheeses, receipts, nets, shells, baskets, posters, fruit,
vegetables, tinned food, drinks, cakes, oils and purses.
They suggest the true world to the spectator.
The reality of run-of-the-mill people.
Human need.
Life.
[FELICIA PRINCE]
Photos courtesy of Cibeles Madrid Fashion Week
Madrid Fashion Week Spring 2011