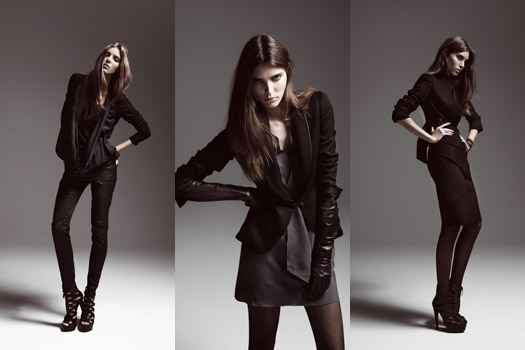 MONTREAL, Oct 2, 2010 / FW/ — Known for his crisp tailoring and fashion-forward menswear, Philippe Dubuc collaborated with Simons, a well-known Quebec retailer to create a Philippe Dubuc womenswear collection exclusively for Simons.
Originally planned to be a one-off one-time collection, the line sold so well that Simons asked designer Philippe Dubuc to create a Spring 2011 collection, which at the time of this interview had already been designed and been sent off for production.
"Within 6 days after it hit the sales floor, 25% of the collection was sold," said Philippe Dubuc. "Simons was so happy with the result, they immediately asked me to create a follow up collection."
This is not the first time that Philippe Dubuc has collaborated with Simon. First, for the past 12 years, Simons has been carrying the high-end Philippe Dubuc menswear.
A few years back, the Montreal-based designer, a one-time one-off collection of Philippe Dubuc menswear at a lower-price point. It was also a great success. And, this time, the womenswear collection seems to be surpassing the menswear in terms of popularity.
Below is our full interview with Philippe Dubuc:
[MARI DAVIS]
Montreal Fashion Week Spring 2011
Photos courtesy of Philippe Dubuc