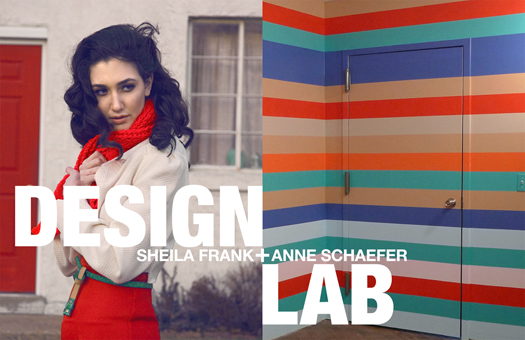 PHILADELPHIA, Jan 4, 2010 / FW/ — Now showing until January 29, 2011, "DesignLab 2010: Sheila Frank + Anne Schaefer" features the works of fashion designer Sheila Frank and local Philadelphia artist Anne Schaefer.
Inspired by the tradition of window dressing, DesignLab 2010 is a series of collaborative exhibitions pairs emerging fashion designers with emerging artists from Philadelphia to create engaging displays, visible to the public 24/7.
DesignLab 2010 builds on the long tradition of artists and designers who have done visual merchandising for major department store windows – from Andy Warhol, Robert Rauschenberg and Roy Lichtenstein to the numerous contemporary artists and designers of today.
Department stores in the early 1900s, including Philadelphia's own Wannamaker's, were known to use their plate glass window boxes as galleries for displaying art.
Today the art of window dressing reflects broader trends in contemporary art and design from the minimal and resourceful to re-imagined and repurposed everyday objects and exuberant displays of technology.
This is the fourth of five pairings whose durations are five weeks each, featuring the fashions of Sheila Frank and the creative response of artist Anne Schaefer.
Gallery programs and events are FREE and open to the public
Moore College of Art & Design
20th Street and The Parkway
Philadelphia, PA 19103
215-965-4027
www.thegalleriesatmoore.org
The Galleries' Hours: Monday through Friday 11am – 7pm; Saturday 11am – 5pm, Closed on Sunday and all academic and legal holidays