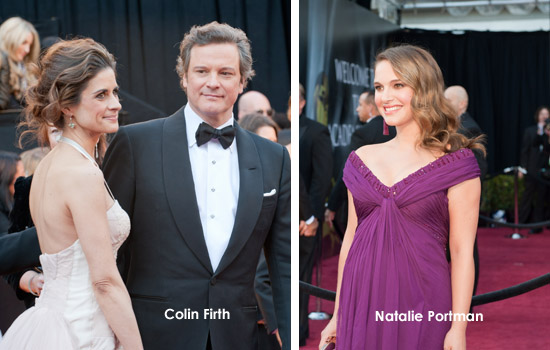 LOS ANGELES, Feb 28, 2011 / FW/ — With James Franco and Anne Hathaway, the first ever male & female team in Oscar's history to co-host the event, the 83rd Academy Awards was very refreshing.
It was a lighthearted affair as the actors make fun of themselves, with several unforgettable moments like Anne Hathaway roasted Hugh Jackman as an Oscar Host and Russell Brand, while giving the "wrong" translation of Helen Mirren's speech, saying that "Helen Mirren's portrayal of the Queen is more authentic than Colin Firth's portrayal of the King."
Yet, underneath all the lightheartedness is the emotional drama of the winners. Though everyone handled themselves very well, it was easily apparent that they are humbled by the award given to them by their peers.
And while every actor wants to win the accolade, when they are there on stage accepting it, they have a hard time believing that they are actually there.
Front runners Colin Firth and Natalie Portman won the Best Actor and Best Actress awards, respectively. "The King's Speech," though heavily favored had to battle it out with "The Social Network." And yes, True Grit was a heavy contender, but it very hard to win an Oscar for a remake especially when the original film already made Oscar history.
Below are the list of winners of the 83rd Academy Awards:
Best Picture: "The King's Speech" Iain Canning, Emile Sherman and Gareth Unwin, Producers
Actor in a Leading Role: Colin Firth in "The King's Speech"
Actor in a Supporting Role: Christian Bale in "The Fighter"
Actress in a Leading Role: Natalie Portman in "Black Swan"
Actress in a Supporting Role: Melissa Leo in "The Fighter"
Animated Feature Film: "Toy Story 3" Lee Unkrich
Art Direction: "Alice in Wonderland" Production Design: Robert Stromberg; Set Decoration: Karen O'Hara
Cinematography: "Inception" Wally Pfister
Costume Design: "Alice in Wonderland" Colleen Atwood
Directing: "The King's Speech" Tom Hooper
Documentary (Feature): "Inside Job" Charles Ferguson and Audrey Marrs
Documentary (Short Subject): "Strangers No More" Karen Goodman and Kirk Simon
Film Editing: "The Social Network" Angus Wall and Kirk Baxter
Foreign Language Film: "In a Better World" Denmark
Makeup: "The Wolfman" Rick Baker and Dave Elsey
Music (Original Score): "The Social Network" Trent Reznor and Atticus Ross
Music (Original Song): "We Belong Together" from "Toy Story 3″ Music and Lyric by Randy Newman
Short Film (Animated): "The Lost Thing" Shaun Tan and Andrew Ruhemann
Short Film (Live Action): "God of Love" Luke Matheny
Sound Editing: "Inception" Richard King
Sound Mixing: "Inception" Lora Hirschberg, Gary A. Rizzo and Ed Novick
Visual Effects: "Inception" Paul Franklin, Chris Corbould, Andrew Lockley and Peter Bebb
Writing (Adapted Screenplay): "The Social Network" Screenplay by Aaron Sorkin
Writing (Original Screenplay): "The King's Speech" Screenplay by David Seidler