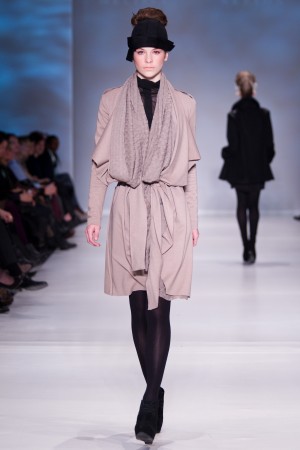 MONTREAL, FEBRUARY 15, 2011 -The Fall/winter 2011 collection of Melissa Nepton stays true to the designer style, presenting simple pieces and great cut.
The collection was all about comfy coats, cozy tunics, and enveloping flowy cape, all paired with leggings.  She presented stunning suits, which her business woman-market will appreciate for sure. The palette used this time stays in neutral, with colors such as beige, off-white, gray or black that softly coloured her classic pieces.
Elegance, movement and fluidity were key words for the collection. The garments were all femininely falling on models' body; but everything seemed controlled, every fabrics 'movement seems calculated while flowing with models 'walk. As Nepton described her influences as "Ice Queen meets bohemian chic" it made it clear to us: the collection was effectively chic, bohemian, but maybe a little too cold. Wool gave casualness to the looks and brought some heat and comfort; but it wasn't enough. Even with a great look, the whole collection seemed cold; there was no story related to the clothes. Maybe the models' barely-there make up did not help us to connect with them; they looked too delicate and too fragile for the garments they were wearing. We missed the emotions. We would have like to see a more empowered woman wearing such designs. Even Ice Queen should have melted in these clothes.
Overall, Nepton made a great job.  She presented a very marketable collection; we just wish she'll give more of herself in her next collection.
Here some of the best looks from Melissa Nepton's Fall/Winter collection, presented on February 8.
[MARIE-CHARLES]
Photos: Jimmy Hamelin
Credits: Sensation Mode