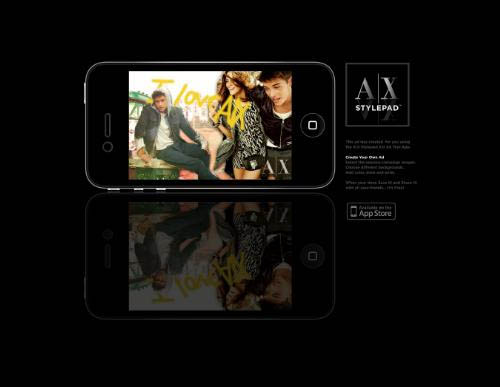 NEW YORK, Mar 30, 2011/ — As part of its 20th anniversary celebration, Armani Exchange is launching the A|X STYLEPAD™ – a multimedia, interactive create-your-own ad app will give iPhone and iPad users to personalize their visits to the A|X mobile site.
A|X STYLEPAD™ gives the user the power to select the background, cast the model from supplied images and add a personalized message by writing text over the image to create a one-of-a-kind ad to save or share with friends on social networks.
A|X STYLEPAD™ feature will be housed on the A|X Mobile site that will feature an exclusive A|XX 20 Years of Style global branded content. Highlights will include special A|XX Limited Edition Collection preview, exclusive A|XX video, access to the A|X Life section for events, trends, music, and brand news.
This content will gain additional exposure with marketing elements via the A|X blog, A|X social networks, A|X YouTube, A|X in­store promotions, A|X text mobile marketing, and press materials covering this digital media endeavor.
This year, A|X Armani Exchange will celebrate its 20th Anniversary. Giorgio Armani will mark this significant milestone with special seasonal capsule collections, a series of legendary global events, exclusive brand application – A|X STYLEPAD™, and a commemorative brandmark of its iconic logo.