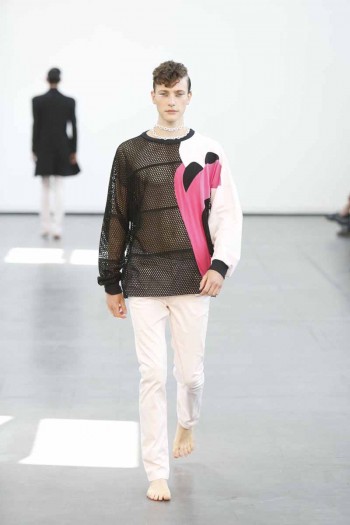 PARIS, Jun 28, 2013/ — Entitled "Dream", the Allibellus+ menswear Spring/Summer 2014 collection was inspired by Alan Parker's 1984 movie, "Birdy" starring Matthew Modine and Nicholas Cage.
Staying true to the inspiration, Alibellus+ Creative Director Titi Kwan proposed rounded shoulders and rounded silhouettes just like Matthew Modine's posture before he took flight. Shirts and sweat-shirts float along the body, pants and shorts are loose, freeing the body just like the way birds are free, and Matthew Modine's character finally finding freedom.
Every piece and every detail in the collection is about Birdy. Titi Kwan adorned the "birdy"- men. The models were made to walk on the catwalk barefoot evoking Matthew Modine's "Birdy" being free of obstruction and establishing a new beginning.
Allusion to the bird is seen everywhere from the stretched collars signifying artificial wings to stripes in opposite directions evoking the bird cage.
Fabrics are waterproof, water slips as it were on feathers. Materials used were all lightweight, indicating flight and weightlessness.