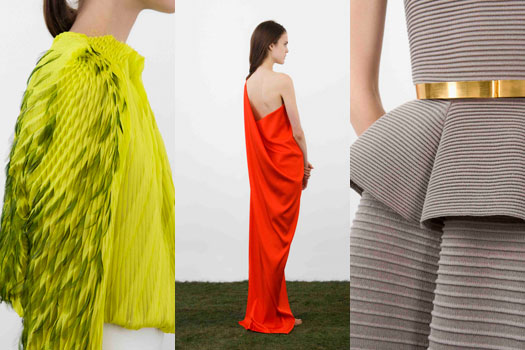 DALLAS & BEIRUT, Mar 29, 2011/ FW/ — Demi-couture, the designated name between haute couture and ready-to-wear was a by-word in luxury dressing in the mid-2000s is making a comeback in Beirut!
Rabih Kayrouz, presenting his Maison Rabih Kayrouz Spring/Summer 2011 last month in his home city of Beirut proudly announced that his "Salwa" collection is "between couture and ready-to-wear."
Dubbed as the "Playful Side of Rabih Kayrouz," Salwa (pronounced / Sah –lou-ah/) means "amusement or the act of providing pleasure," in Arabic.
A whimsical celebration of color, a joyful reverie with a touch of sophistication, the collection was done in light fabrics and easy shapes create the perfect blend of relaxed elegance. Handcrafted appeal, prefect finishing, raw exposed seams and complex pleating are but a few of this collection's attributes.
As the designer himself has said, "Maison Rabih Kayrouz occupies a special place between Haute Couture & Ready-to-Wear. This place is the result of an overwhelming yet lucid approach to Haute Couture as it is today."
Creating demi-couture, the designer brings his the Ready-to-Wear line the emotions and know-how of Haute Couture.
Rabih Kayrouz has been greatly influenced by the world of Haute Couture all throughout his career. For more than ten years, he has created unique made-to-measure pieces while gaining the know-how and discovering the codes of this sector. It is from this experience that stems this endeavor of bringing the emotion of Haute Couture to Ready-to-Wear.
[MARI DAVIS]
Photos courtesy of Maison Rabih Kayrouz