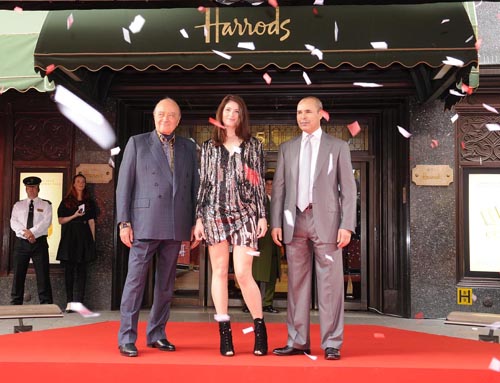 LONDON, Jun 18, 2011/ FW/ — The world's most celebrated store celebrated the opening of its annual sales event Harrod's style today as the Knightsbridge store welcomed Gemma Arterton to officially open its famous Summer Sale.
Together with Ex-Chairman Mohamed Al Fayed and Executive Director & Head of General Investment Portfolio of Qatar Holding & Harrods Board Member Dr. Kamel Maamria, Gemma Arterton posed welcomed customers to Harrods.
In more than 330 departments, across seven floors, customers can enjoy incredible summer discounts from luxury and designer brands, with highlights including: YSL halter neck bow back dress – was £1200, now £600; Sass & Bide Lovestate skinny crop jeans – were £159, now £77.95; Missoni skinny scarf – was £225, now £135; Panosonic 46″ Full HD Plasma – was £999, now £499; La Prairie skin caviar set – was £378, now £270.
While shoppers embark on their summer bargain hunt, posed for pictures in the store's iconic Georgian Restaurant, fronting a catwalk lined by a host of mannequins dressed from head-to-toe in must-have sale items!
HARRODS SUMMER SALE
Jun 18 – July 10, 2011
Photos by Steve Finn