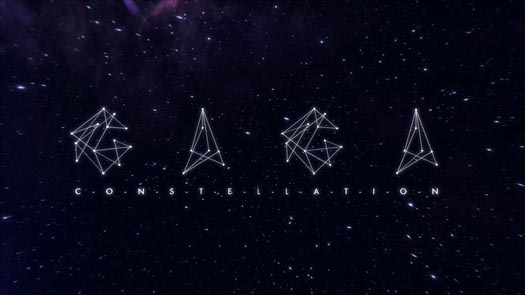 NEW YORK, Dec 9, 2011/ — Arguably one of the most talked about holiday store window this season is Barneys Madison Avenue wherein Christmas wishes grace the store window via an interactive window display.
Entitled "Gaga Constellation" and part of the recently launched Lady Gaga's Holiday Workshop, the Barneys Madison Avenue store window display marries social media with pop culture.
Designed by New York digital agency The Science Project, the "Gaga Constellation" store window opens with a custom constellation-inspired typeface set into a magnificently rendered CG film. In the film Lady Gaga forms from stars and interstellar particles before morphing into a burst of white unicorns against a nebula-filled starscape.
Barneys shoppers and passersby are then asked to tweet their holiday wishes into the installation by using the #gagastars hashtag. Selected tweets appear moments later – first on Twitter and then on the installation's magnificent 12-foot x 6.5-foot laser phosphor display provided by Prysm.
In addition to designing the film title's custom typeface, The Science Project designed and developed the suite of custom applications that drive the in-window Twitter interface and launched the final assembly of the installation.
The challenge, according to The Science Project's Creative Director Dave Skaff, was in bringing together the work of so many lauded creative forces into a cohesive experience.
"Just look at the pieces on the board: Barneys, Lady Gaga, Nicola Formichetti, Tim Richardson, The Mill, New York City, Twitter, the holiday spirit – where does it end? Tweeting holiday wishes into the constellation was the only possible way to synthesize these talents into an experience that was at once meaningful and celebratory," said Skaff.