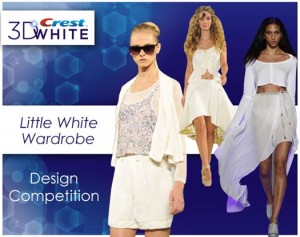 NEW YORK, Dec 20, 2011/ FW/ — Yesterday, Gen Art and Crest 3D White announced the launch of the 'Little White Wardrobe' Design Competition, granting one designer the stand-out moment of a lifetime at Gen Art New Garde presented by Crest 3D White during New York Fashion Week in February 2012.
Emerging designers are challenged to create a glamorous and radiant capsule collection of five full looks inspired by Crest 3D White, the #1 whitening brand recognized by top beauty magazine editors. For the first time in Gen Art history, the winning designer's capsule collection will walk the runway that evening at the Gen Art New Garde fashion show (date TBA).
The competition invites designers 18 years and older from all over the U.S. to get creative and build a collection influenced by Crest 3D White's key phrases such as '3D White,' 'Glamorous,' 'Whitens and Brightens,' 'Dazzling,' 'Stand-Out Moment,' 'Radiance,' 'Brightening,' 'Shine,' and 'Little White Dress (LWD)', and wow a panel of industry judges.
The winner will have the opportunity to debut their capsule collection at New York Fashion Week, courtesy of Crest 3D White and Gen Art. Three lucky finalists will also be selected to showcase their sketches on site at the Gen Art New Garde fashion show.
Designers are asked to submit 8-10 sketches from their proposed capsule collection, a personal statement, and previous examples of their work among other items. They will be judged on criteria such as design aesthetic, originality, feasibility of production, and connection to Crest 3D White's key phrases.
In addition to being traveled to New York Fashion Week for their debut, the winner will also be provided a stipend to put their vision into production. Full submission info can be found at www.genart.org/littlewhitewardrobe